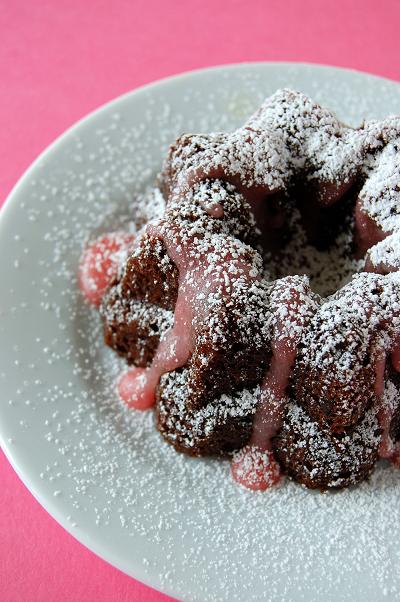 When we would go back to visit my maternal grandparents it meant a few things. One, my diabetic grandmother would slip us money to go buy her doughnuts and we could "keep the change"(my cousin Chad and I were always to young and foolish not to know that you don't go and buy a diabetic doughnuts). It meant picking raspberries while trying not to be stung by bees(Summer only). It meant breathing in the fumes of Vlassic pickles the couple nights I would stay at my cousins(the factory has since moved and sadly I miss that smell). It meant getting to swim in the mayor's swimming pool(Summer only). And it meant the torture that was Sunday drives with my grandfather.
Oh how that man loved to get in a car and drive absolutely nowhere…for hours. Hours and hours. My uncle has this same trait but he is smart enough to sucker you in to a 5 hour trip to Duluth, Minnesota  by saying we were going for the "best pie you ever tasted" and I am stupid enough to be lured by it. But my grandfather you had no choice. He said get in the car. We got in the car. For hours. Did I mention the hours part? Nothing can be more fun for a 10 year old then sitting in the back seat of a Oldsmobile listening to big band music and not being allowed to bring anything to do. It "took away from the scenery". Ugh. Those car rides would draw out my morbid imagination. For with nothing to do and not really being involved in the adult conversation about second cousins and what not that I knew nothing about, my mind would wander. It would wander into all the different ways we could crash the car. Now keep in mind it was not totally morbid, as I never did kill anyone in my day dreaming. If the car was engulfed in a fiery inferno, I made sure in my mind to get everyone out of the car. Sometimes it was just a simple crash into a tree. Other times we would go over an embankment by swerving to miss a cow in the road and would launch off a big ravine in the Duke's of Hazard style.
Though I hated those car rides so, they were really only the memories I had of my grandfather. He was a very quiet man. One who showed little emotion. He was the kind of man who would hug you but they whole time he was doing the side hug you knew he was thinking, "she's touching me". My grandfather ran the pharmacy in the town where my mother grew up(my aunt still works in that pharmacy). The town didn't even have a stop sign(when they eventually got the one yellow blinking light in the middle of town, that was big news). My mother's high school graduating class had 8 people(mine had 532). He usually spoke about 2 words to me when they would come out to visit or we would go there. Those two words were "uh-huh". I would ramble on and on about something, and no matter what, I got the uh-huh. Despite all of that, I always knew he loved me.
When I was still in high school, my grandfather, a man who smoked most of his life and then switched to chew, developed pancreatic cancer. Pancreatic is not a kind cancer. Now before you say what cancer is?..none. However, some are more kind in the fact that they give you time to fight it.  Pancreatic cancer tends to be quite aggressive and your prognosis is usually poor. This was the case of my grandfather. For just months after hearing his diagnosis, my grandfather was laid to rest.
What a horrible story you say. Yes and no. For of course, death is never a good thing, it did make me realize how very little I knew about him. Only years after he passed through stories told by my mom and uncle do I really know anything about him. Spend time with people now. Get to know people now. If you have a recipe that you always wanted to learn from your mother or grandmother go and have her teach it to you now. Appreciate the time you have with others even if it is just sitting in a car for hours at a time starring at miles and miles of farmland.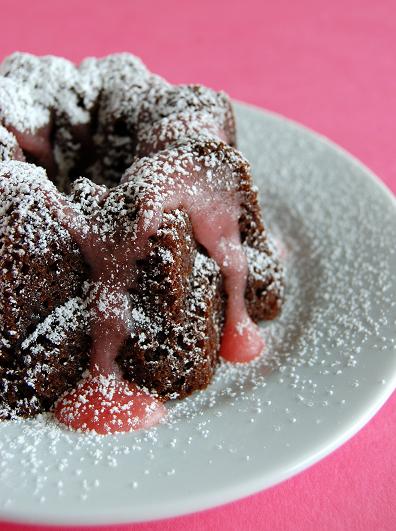 When I saw that Chris of Mele Cotte's grandmother passed away from the same form of cancer my grandfather did, I knew I wanted to contribute something to the Cooking to Combat Cancer event. This Black Forest Chocolate Bundt Cake comes from Canadian Living and was chosen because my grandfather did love chocolate and I always used to see him eat cherries(I just remember the bowls of pits). I encourage you to participate in both this event as well as Barb's A Taste of Yellow…there is still time to do both!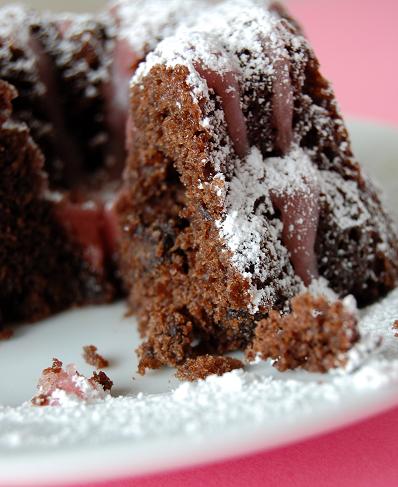 Black Forest Chocolate Bundt Cake
Serves 16
1 cup butter, softened
1-1/4 cups packed brown sugar
3 eggs
1-1/2 cups all-purpose flour
3/4 cup  cocoa powder
1-1/2 tsp  baking powder
3/4 tsp  baking soda
1/2 tsp  salt
1-1/4 cups  sour cream
1 cup chocolate chips
1 cup dried cherries
1 tbsp powdered sugar
Preparation:
Grease and flour 10-cup Bundt pan; set aside. I used 6 mini Bundts.
In large bowl, beat butter with brown sugar until fluffy. Beat in eggs, 1 at a time. Into separate bowl, sift together flour, cocoa powder, baking powder, baking soda and salt, and sift again. Stir into butter mixture alternately with sour cream, making 3 additions of flour mixture and 2 of sour cream. Stir in chocolate chips and cherries. Scrape into prepared pan.
Bake in center of 325°F  oven until cake tester inserted in center comes out clean, about 1 hour(about 30 minutes if you are making mini). Let cool in pan on rack for 10 minutes. With knife, loosen rim of cake. Place rack on pan. Wearing oven mitts, grasp pan and rack; turn over. Lift off pan. Let cool completely. (Make-ahead: Wrap in plastic wrap and store for up to 2 days or freeze in airtight container for up to 2 weeks.) Dust with powdered sugar.
Canadian Living Magazine: December 2004
The glaze is just some melted cherry jam that my mom made with a little sifted powdered sugar. I didn't actually pay attention to the amount…sorry.