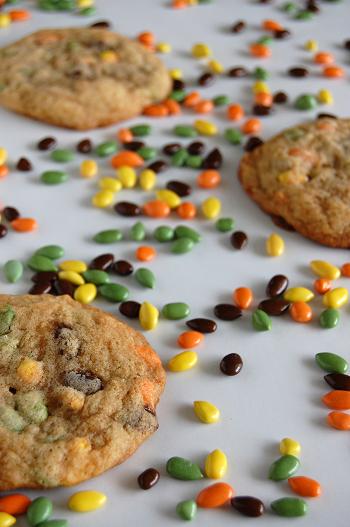 I try very hard to make sure that the majority of the ingredients I use on this blog can be found, all be it with maybe a little research, by most everyone(well in the States and Canada). However, when I finally broke down and bought the chocolate covered sunflower seeds at Trader Joe's I knew I would be making something with them.
If you don't have a Trader Joe's near you, then I am sorry. It really is one of my favorite places to shop for food. What used to just be the place where hippies shopped for their Vegetarian and Organic foods, the Yuppies of today have joined right in. And what is even better is that Joe's carries high quality foods for much cheaper prices. They have great cheeses, carry Plugra butter for a decent price, my organic milk and my most favorite trail mix, the Temptation Mix. No I am not doing a commercial for them, nor are they paying me to do so, I just love them so.
I passed those chocolate sunflower seeds a dozen times, choosing not to buy them because I did not want to be addicted to yet another product of theirs. But when my parents were here, my mother and I went off to Trader Joe's for her to stock up…she does not have one anywhere close to her. There they were, and well, my mom was buying, so into the cart they went. The minute they went into my mouth I wanted to make them into a cookie, and that is what I did.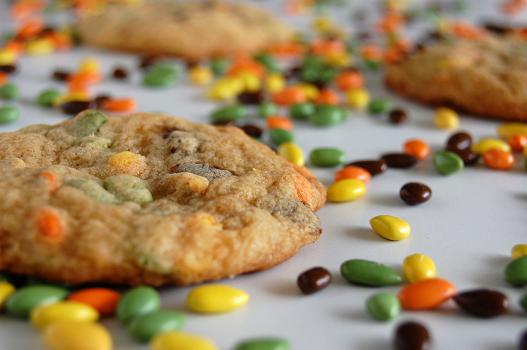 Chocolate Covered Sunflower Seed Cookies
1 cup unsalted butter, at room temperature
1 cup packed dark brown sugar
½ cup granulated sugar
2 eggs, at room temperature
1 tsp vanilla extract
2 ¼ cups flour
1 tsp baking soda
¼ tsp ground sea salt
1 ½ cups chocolate covered sunflower seeds, unsalted(see note)
Preheat oven to 375F.
Cream together butter and sugars, about 3 minutes.
Add eggs one at a time and scrape down bowl after each addition.
Add vanilla and beat for 30 seconds.
In a separate bowl, combine and sift together flour, baking soda and sea salt.
Add flour mixture to butter mixture and mix on low until fully incorporated.
Stir in chocolate covered sunflower seeds.
Form into 1-inch balls and place on a ungreased cookie sheet. Bake for 8-9 minutes.
Let cool for 2 minutes on pan and then move to wire rack.
Makes about 38 cookies.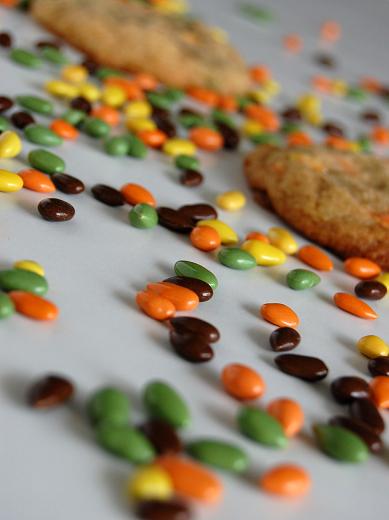 Note: Chocolate covered sunflower seeds were purchased at Trader Joe's. If you do not have a Trader Joe's than you can substitute ¾ cup unsalted sunflower seeds and ¾ cup mini semi-sweet chocolate chips.