When I was younger my father always went to a convention each year. My mom would go with him and after the convention they would make a little vacation out of it. Every year it was in a different place. Every year I was left behind(you may now feel sorry for me 🙂 ). Every year my mom would try to compensate by bringing me gifts(yes, I was spoiled…but if you knew me, you would spoil me too!). I would get random t-shirts and trinkets but two things remained the same: I would get a sweatshirt from the local university and a cookbook from the local Junior League. Oh how I looked forward to getting those cookbooks. Regional cooking is so very interesting to me. Sadly though they never went anywhere back east and neither have I as an adult. My father eventually stopped going to these conventions(retired) and so my yearly Junior League cookbook allotment stopped. Boo. I then made it my tradition to buy the Junior League cookbook of places I visited.
One time on the way to see my parents I was routed through Portland, Oregon. I had a 3 hour layover and so I wandered through the airport in search of a Cinnabon(can you blame me?). I went browsing through all of the shops and ended up in the Explore Oregon(or some stupid name like that) where it was all Oregon based items. I quickly asked if they had cookbooks and the woman pointed me over to the shelf. There was no Junior League cookbook, but there was one that caught my eye, Albertina's. It was originally an orphanage named after Albertina Kerr, the wife of Alexander Kerr(you know they guy who makes the jelly jars). The orphanage shut down and it was turned into a historic building which then became a restaurant and catering establishment. This cookbook was one of my rare finds and is one of my go to books when I am hosting a luncheon or brunch. I will admit that I have never made a dessert from there and decided that should change.
I chose a simple Marvelous Oatmeal Cake figuring that I like Oatmeal Bread so why not cake? It was pretty humble sounding and so I sat around thinking what I would have to do to "jazz" up the cake when it came out of the oven. I let it cool and sampled a small corner edge to see what it tasted like. Then I sampled another piece, another, and so on until 1/3 of the cake was gone in a blink of an eye. Oh my. Good thing my New Year's Resolution was not to lose weight. The cake really needs nothing more than itself. But since I had already sauted apples and broke open my jar of caramel I went ahead and added that. I must say, that was good too.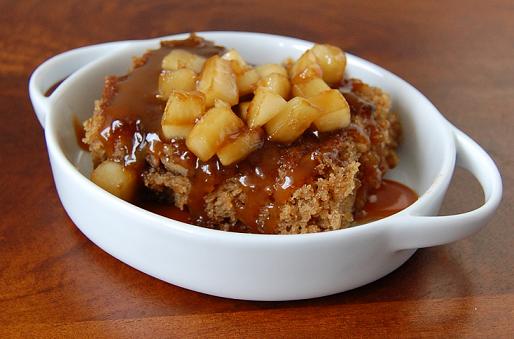 Marvelous Oatmeal Cake
1 cup quick oatmeal
1 ½ cups boiling water
½ cup unsalted butter
1 cup packed brown sugar
1 ½ cups granulated sugar
2 eggs, beaten
1 cup sifted flour
1 tsp baking soda
1 tsp cinnamon
½ tsp nutmeg
1 tsp vanilla
½ cup chopped walnuts
Serves 12
Preheat oven to 350F.
Combine oatmeal and boiling water. Let stand for 15-20 minutes.
Combine butter and sugars until light and creamy. Add eggs and continue beating. Stir in cooled oatmeal mixture. Sift together flour, baking soda and spices. Gradually add dry ingredients to batter. Mix well. Add vanilla. Fold in walnuts.
Pour into a greased and floured 9-x-13-inch pan. Bake 45-55 minutes or until cake tests done. Can be served warm or cool.
Apple Saute:
2 apples, peeled, cored and diced
3 TBSP brown sugar
1 TBSP butter
In a saute pan, melt butter and add apples over medium heat. Let cook for 2 minutes and add brown sugar. Stir. Let sugar melt into the butter and stick to the apples. Set aside.
For the caramel sauce I used Fran's Caramel Sauce(a local place). It's great. If you want a caramel sauce though go here.
Source: Adpated from Albertina's Exceptional Recipes