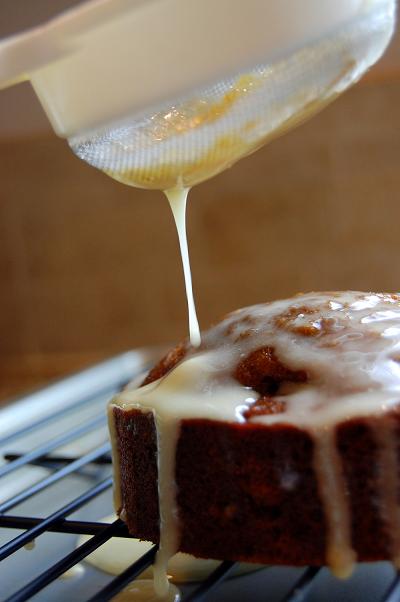 I was trying to find something to bake the other day only to realize every recipe I wanted to make I was missing a key ingredient. After scanning a ton of cookbooks and having my husband point out that I have way too many of them, I found a moist ginger cake with orange icing. That sounded good.
I quickly ran through the ingredients and I had all of them. So off I went. I was mixing away. I added the butter. I added the egg. I added the sugar. I added the molasses. Then it hit me. I'm making gingerbread. Duh, I am such a moron. How did I not know this? I blame it on getting hit hard on Sunday night by a meanie of a guy. It not only made my body ache but apparently it jostled my brain around a bit. Regardless, I thought it was going to be something different than gingerbread…I was wrong.
So there I stood thinking, I don't want to make gingerbread. I mean the holidays are over, though I did not make any gingerbread during the holidays. I threw in some chopped walnuts and decided that the orange icing and the walnuts would make it different. Yeah, it pretty much is gingerbread, but a tad more spicy than the usual kind. The orange icing was a nice difference though. So if you are still in the holiday mood feel free to make this ginger "cake". Or simply bookmark it for next year. 🙂
So apparently I am a little slow in the brain this week(well, more so than usual :P). Not to worry I wont make anything that involves me holding sharp objects.
Moist Ginger Cake with Orange Icing
8 TBSP unsalted butter, melted
1 large egg, lightly beaten
¾ cup granulated sugar
½ cup molasses
1 cup hot water
2 ¼ cups all-purpose flour
1 tsp baking soda
½ tsp salt
2 tsp ground ginger
1 tsp ground cinnamon
½ cup chopped walnuts
Preheat oven to 350F.
Grease and flour a 9-inch tube pan. I used 4 1/2-inch diameter spring forms.
Combine the melted butter, egg and sugar in a mixer fitted with a paddle attachment,. Add the molasses and water and mix.
Sift the flour, baking soda, salt, ginger, and cinnamon together. Working in batches, and mixing after each addition, add the dry ingredients to the molasses mixture. Mix until smooth. Fold in walnuts.
Pour into the prepared pan and bake in the center of the oven for about 35 minutes(the same amount of time is needed for the mini). Let cool in pan for 10 minutes, then turn out on to a wire rack.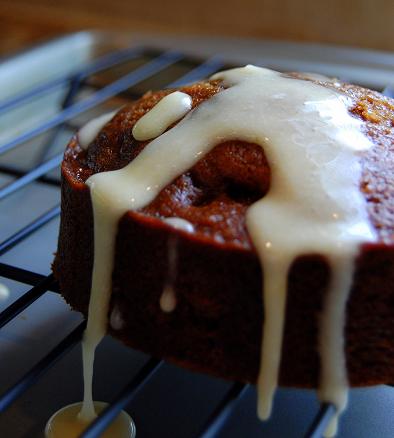 For the icing:
2 cups confectioners' sugar
¼ cup fresh orange juice
1 tsp grated orange zest
When the cake is completely cooked, whisk the icing ingredients together until smooth. Set t he wire rack over wax paper or place in a baking pan to catch the drips. Spoon all the icing onto the top of the cake and spread it out, so that it runs down the sides. Set aside in a cool place until icing has set about 30 minutes.
Source: Adapted from Butter, Sugar, Flour, Eggs by Gale Gand, Rick Tramonto and Julia Moskin