Right around the time of my move, two of my favorite blogs, Veronica's Test Kitchen and Dessert First both made brioche from Pure Dessert. They both did a wonderful job of replicating the beautiful, buttery brioche that I wanted to make it…and surprise, surprise…I just happen to own that cookbook. 😛 But along the way I ran into one of my many forgotten about cookbooks while I was unpacking. I ran across a recipe for pumpkin brioche and thought that sounded pretty darn perfect.
I must say that there is very little pumpkin flavor in the brioche, it simply makes it super moist. It is not made to be a sweet bread either, I made part of the recipe into rolls and ate them with chicken and couscous(which my husband amazingly enough liked the rolls…he hates pumpkin). I did on one of the loaves spread butter and sprinkle it with pumpkin pie spices…which helped to bring out more of the pumpkin flavor…or maybe it was all in my mind(most likely 🙂 ). I want to make these into some sort of cinnamon bun I think….who knows.
That is it. I am still pretty busy so no real long, drawn out blog updates….lucky you. 🙂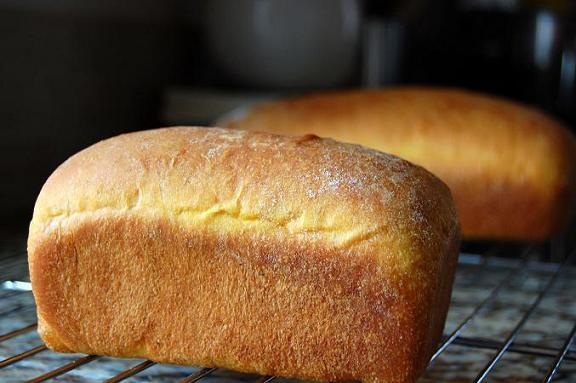 Pumpkin Brioche
For the Sponge:
¼ cup whole milk, at room temperature
2 ½ tsp active dry yeast
1 cup pumpkin puree
1/3 cup sugar
1 cup bread flour
Combine the milk and yeast in the bowl of a standing mixer fitted with a paddle attachment ans whisk until the yeast is dissolved. Let stand for 5 minutes, then stir in the pumpkin puree, sugar, and flour, forming a thick batter. Cover with plastic film and let rest in a warm environment until bubbles form, 30-40 minutes.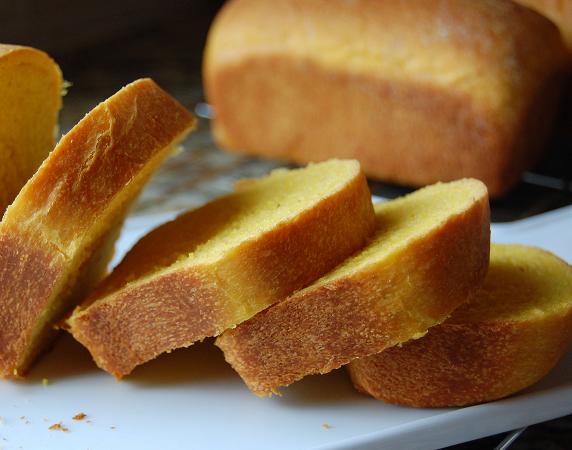 For the Dough:
5 cups bread flour
2 tsp salt
6 large eggs, lightly beaten
½ lb(2 sticks) unsalted butter, softened
1.Add the flour ans salt to the sponge, then add the eggs. Mix on low speed for 2 minutes, or until the eggs are absorbed. Increase speed to medium and knead the dough for 5 minutes. The dough will begin to slap around. Hold on to the mixer when necessary.
2.2. On medium-low speed, add the butter, 2 TBSP at a time. Stop the mixer and scrape down the sides of the bowl occasionally.(Recipe did not say to, but I switched to the dough hook at this point). Knead until the dough is shiny ans smooth, about 5 minutes. Scrape out the dough, wash and dry the bowl, and coat it lightly with oil.
3.Place dough in the oiled bowl and turn it so that the top is coated with oil. Cover with plastic film and let rise at room temperature until doubled in volume, about 2 hours.
4.After the dough has doubled in volume, press down to deflate, folding one half into the other. Cover with plastic film and refrigerate for at least 4 hours or overnight. This is the second rise.
5.Spray three 9 x 5 x 3-inch loaf pans with pan spray. I used one large pan, two mini loafs and made 8 rolls.
6.Remove dough from fridge. Turn out onto a lightly floured surface. Divide the dough evenly into thirds. With a rolling pin(that is floured), roll the dough into a rectangle equal to the length of the pan and double its width. Starting from the short side, roll up the dough like a jelly roll. If you would like you can add a filling. I added pumpkin pie spices with sugar in one of my loafs. Pinch the seam together. Place the dough seam side down in the prepared pan. Gently work the dough into the pan with your fingers so that it touches all sides. The dough should fill the pan halfway.
7.Cover the dough with plastic film coated with pan spray and let rise at room temperature until it has doubled in size and filled the pans completely, 1 ½ to 2 hours.
8.Toward the end of proofing preheat the oven to 400F. Adjust the rack to the center of the oven.
Egg Wash
1 large egg, plus large egg yolk
Whisk together the egg and yolk. Gently brush the surface of the dough with the egg wash.
Baking:
1.Bake for 10 minutes. Turn down the oven temperature to 350F and bake for 30 minutes more(the mini loaves only need 17 minutes more), with a golden crust and an internal temperature of 180F.
2.Remove the brioche from the pans as soon as they come out of the oven and cool it on a rack before serving.
3.If making rolls, roll them to golf ball size. Proof in paper lined muffin cups for easy baking. Bake at 350F for 20-25 minutes.
4.
Adapted From: The Secrets of Baking by Sherry Yard