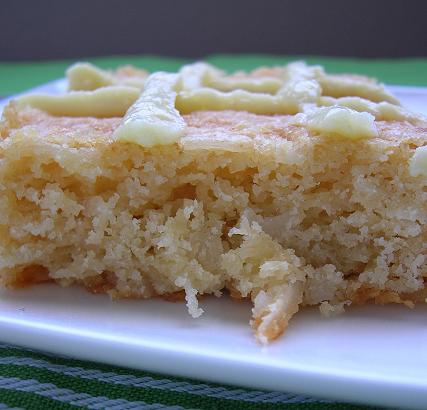 A blog I frequent, Coconut and Lime, is celebrating it's 3rd anniversary. To help celebrate, Rachel ask people to make something using coconut and lime. I thought this was a fun idea and so I whipped up some coconut and key lime blondies. They are sort of blondies, sort of cake….actually somewhere in between. Either way, they were moist with a nice flavor…though next time even more key lime juice…I like them tart. The size of the pan is important, for when other people tried to make the blondie that I was inspired by a 9 x 13 inch pan did not work…you need the 9 x9 inch.
Anyway, I wish Rachel a happy blogging birthday and hope these brighten her day.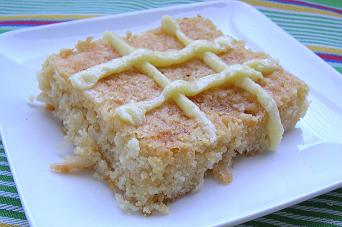 Key Lime Coconut Blondies
1 cup all purpose flour
1 cup cake flour
1 teaspoon baking powder
1/2 teaspoon salt
1/4 teaspoon baking soda
2 cups (packed) golden brown sugar
3/4 cup (1 1/2 sticks) unsalted butter, room temperature
2 large eggs
3 TBSP key lime juice
3/4 cup shredded sweetened coconut
Preheat oven to 350°F. Line 9x9x2-inch metal baking pan with aluminum foil, extending foil over sides by 2 inches. Butter and flour foil. Whisk 2 cups flour, baking powder, salt, and baking soda in medium bowl to blend. Using electric mixer, beat brown sugar and butter in large bowl until light and fluffy. Beat in eggs 1 at a time, then key lime juice. Add flour mixture and beat just until blended. Stir in shredded coconut. Spread batter evenly in prepared pan.
Bake dessert until top is golden and tester inserted into center comes out clean, about 50 minutes. Cool completely in pan on rack. (Can be made 1 day ahead. Cover with plastic wrap and refrigerate. Bring to room temperature before serving.) Decorate with melted white chocolate if desired. Cut into 16 squares and serve.
Makes 16 blondies.
Adapted from a raspberry and pecan blondie recipe on Epicurious.com