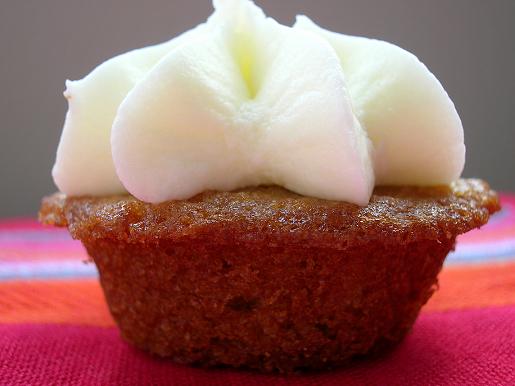 Small little set back. Non-graceful me re-injured my foot last night at work. It got caught on something(I think a chair) and OUCH! I was almost back to walking normal and sadly I am close to being back to square one. I'm going to take the time to sit around and organize recipes I have printed off over the years.
So last weekend I went to a much needed girl's night out. We had a game night with pizza and chips and dips and nice fattening desserts. I brought carrot cake. There were only 6 of us so I only made a single layer and decided to make mini cupcakes out of the left over batter. I used a recipe from Tish Boyle's the Cake Book. This cake was super moist and it had a nice ginger kick that most carrot cakes do not have(due to the crystallized ginger you throw in). Fun time was had by all, but I once again learned that I have such a dirty mind when playing Pictionary…everything seems phallic to me. 😛 Well I am hobbling off to organize some recipes.
Solid Gold Carrot Cake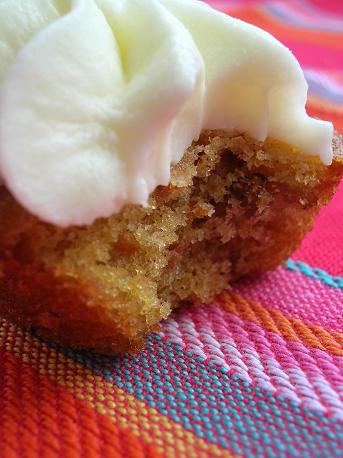 2 cups all-purpose flour
2 tsp baking powder
1 tsp baking soda
3/4 tsp salt
1 1/2 tsp ground cinnamon
1/2 tsp fresh nutmeg
4 large eggs
1 cup granulated sugar
1 1/4 cups firmly packed brown sugar
1 cup canola oil
1/2 cup unsalted butter, melted
1/4 cup whole milk
1 TBSP vanilla extract
2 TBSP finely chopped crystallized ginger
3 cups firmly packed shredded carrots
1 cup walnuts, chopped
1. Preheat to 350F. Butter and flour two 9-inch pans or mini muffin pans.
2. Sift together the flour, baking powder, baking soda, spices and salt in a medium bowl. Whisk together and set aside.
3. Beat eggs and sugars together on medium speed until well combined, about 2 minutes. At low speed, add the oil, melted butter, milk, vanilla, and ginger and mix until blended, scraping down the sides of the bowl as necessary. Add the flour mixture in three additions, mixing until just blended. Add the carrots and walnuts and mix until blended. Scrape the batter into the prepared pans, dividing it evenly.
4. Bake cakes for 25-30 minutes until they are dark golden brown. For mini cupcakes, it took 15 minutes.
5. Invert cakes onto racks and cool completely. Frost with your choice of frosting. I used cream cheese frosting…for recipe go here.