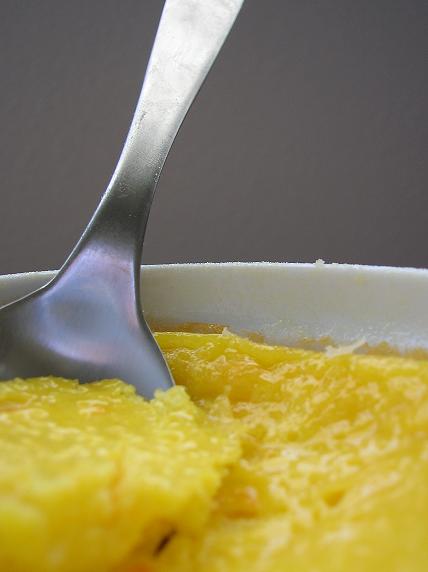 So when I was reading through Once Upon a Tart the other day looking for a fresh fruit tart to make I ran across a baked lemon tart. I knew that was not what I wanted to make but I was intrigued by the part in the paragraph that said if you had extra custard left over, just put them in ramekins and bake them off. Yum I thought. One problem though, no lemons. But oranges, I always have oranges. Instead of even bothering with the tart part at all I just decided to make the custard and bake those. I originally had the idea of doing a deconstructed tart with the inside in the ramekin and the outside just a little tart cookie. Which I tried, and didn't really like(apparently I like something in my tart dough…not just beside it), so I scraped that idea and just stuck with the custard. What I got was something similar to flan. A little more eggy than I expected, yet still quite yummy. If I were to do it all over again, I would have bake it in a water bath, which I came really close to doing, but I thought I would stick to their recipe. This would go nicely with an orange caramel sauce, which I would have made except…I was out of oranges after making these.
Orange Custard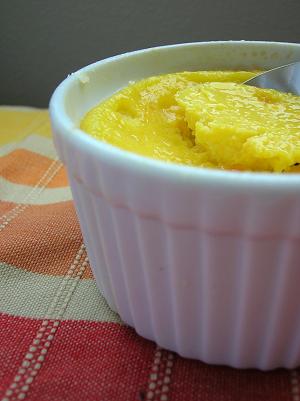 3 large eggs
3 large egg yolks
1/2 cup sugar
zest of 1 orange
3/4 cup orange juice(the juice of two large oranges)
3/4 cup heavy cream
Whisk together the eggs and yolks together in a medium-sized bowl. Add the sugar with one hand while continuing to whisk with the other. Still whisking, pour in the lemon zest and juice, then the cream. Pout the orange custard into ramekins. Bake at 350F for about 25 minutes…they will puff up, but deflate after coming out of the oven.
Remove from oven and let cool. Once cool, place in fridge to chill. Serve cold.
Source: Adapted from Once Upon a Tart by Frank Mentesana and Jerome Audueau 2003