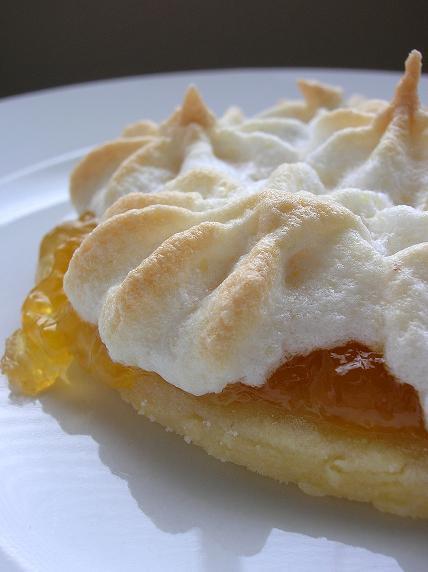 So to me a galette is a free form open-faced tart stuffed with fruit. But come to find out it can be a great many things. According to Dorie, galettes are most likely referring to a cookie, often a fat, flaky Brenton butter cookie…and I am not one to argue with Dorie. The original recipe is for an Orange Galette, the orange coming from the zest and Grand Marnier that they put into the apricot jam. Since I had no Grand Marnier, I went with apricot brandy. This galette has a bit of an identity crisis…it is half sugar cookie half tart…a tarookie, if you will(doubt that name will be catching on anytime soon). The dough is sweeter than traditional pate brisee and so in that aspect it is more like a sugar cookie. But I just can't help thinking it is more like a tart since you have the fruit and meringue topping. I must say they are quite yummy and very versatile, as these could really be made with any jam you so desired. Once again, the only downfall, is that the book doesn't have pictures so this is MY interpretation of what it should look like 🙂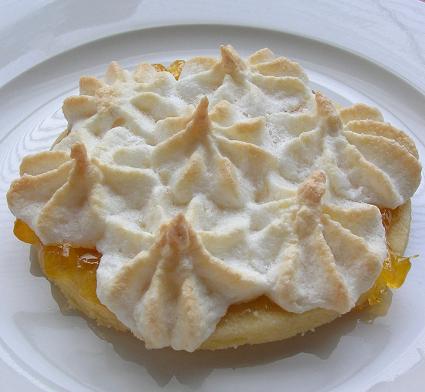 Apricot Galettes
The Cookie Base
1 1/4 sticks unsalted butter, at room temperature
1/2 cup powder sugar
1/4 cup ground almonds
pinch of salt
1 large egg
1 3/4 cups all-purpose flour
The Jam and Meringue
1/3 cup apricot jam(I use apricot-pineapple that my mom made)
2 tsp apricot brandy
2 large egg whites, preferably at room temperature
3 TBSP sugar
1/3 cup ground almonds
1/3 powder sugar
powder sugar for dusting
1. To make the cookie base: Working in a food processor or a mixer with a fitted paddle, beat the butter, powder sugar, ground nuts, and salt together until the mixture is creamy but not airy. Mix in the egg and then the flour, mixing only until the flour is incorporated-no more. Turn out the dough, gather it into a ball, flatten it into a disk, and wrap it well in plastic. Chill for at least 30 minutes(and up to 2 days).
2. Line two baking sheets with parchment paper and keep them close at hand. Working on a lightly floured surface, roll the dough out to a thickness of about 1/4 inch. Using a large cookie cutter or the rim of a 4-inch mini-tart pan, cut out as many rounds as you can. Lift the rounds onto the baking sheets, prick them all over with the tines of a fork, and slip the sheets into the refrigerator to chill for about 20 minutes while you preheat the oven.
3. Position the racks to divide the oven into thirds and preheat the oven to 350F.
4. Bake the Cookies for7-10 minutes, rotating the baking sheets top to bottom and front to back at the halfway point. The cookies will be pale and just firm. Transfer the sheets to cooling racks and let the cookies cool while you make the toppings.
5. To make the jam and meringue: Put the apricot jam in a bowl and whisk in apricot brandy…if you don't have it, don't worry. Set aside.
6. In a clean, dry mixer bowl, using the whisk attachment, beat the egg whites until they hold medium peaks. Still beating, add the sugar and continue to beat until the whites are firm but still glossy. Sift together the ground nuts and powder sugar, and, using a rubber spatula, gently fold this into the beaten whites.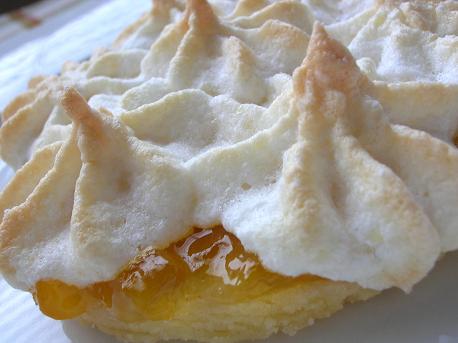 7. To assemble the galettes: Using a butter knife, spread a thin layer of jam over the cookies, leaving about 1/2 bare around the edges. Using a spoon or pastry bag fitted with a star tip, cover the jam with meringue. Be generous with the meringue. Dust the cookies with powder sugar.
8. Bake for about 12 minutes, or until the cookies are firm and the meringue is set. Carefully lift the cookies on to a cooling rack using a wide metal spatula and cool to room temperature.
The cookies are best served the day they are made.
Source: Apadpted from Paris Sweets by Dorie Greenspan 2002