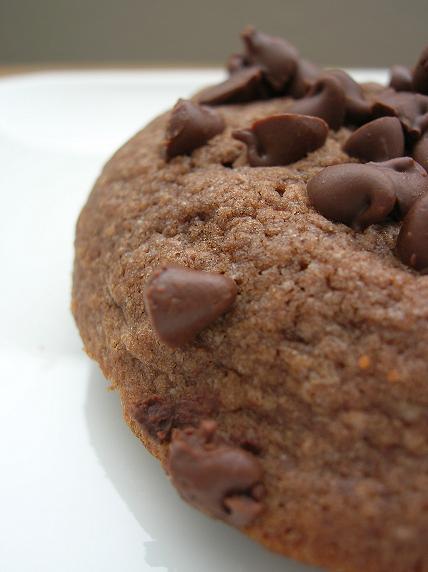 I feel bad that I have neglected my lovely little blog. I was score keeping hockey(my other passion in life..hockey not score keeping) all weekend for a tournament…trying to make money to pay for my own hockey. Anyway, no baking was done and cleaning either 😛  So I feel guilty. I remembered that I made cookies awhile back and chose not to put them up because I had just done something with Nutella. But since my blog is feeling rejected I thought I would throw something up so that my thief has something new to add to his/her collection. 🙂 I also feel really bad because I haven't had to time to go around and read all of my favorite blogs. I did get to read some SHF stuff but still have to go read and vote for HHDD. So much to do.
This cookie is really cakey and visually not that exciting(so I threw chocolate chips on top for a little character). I really enjoyed these, but then again, I really enjoy Nutella. There isn't an overwhelming hazelnut flavor so if you have someone who is only so-so about hazelnuts they will probably eat these….my husband did(Mr. Picky himself).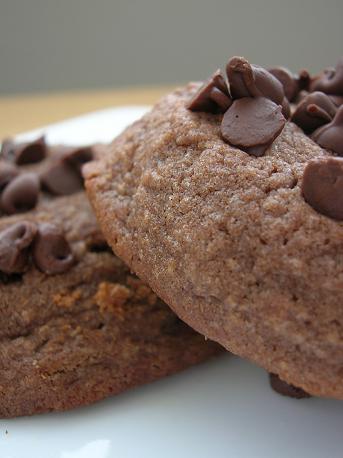 Nutella Chocolate Hazelnut Cookies 
1/4 cup butter
1/2 cup sugar
2 large eggs
1 (400 g) jar of Nutella
2-1/2 cups all-purpose flour
1 teaspoon baking soda
1/2 teaspoon salt
1 cup semi-sweet chocolate chips
1 teaspoon vanilla
1/3 cup milk
Pre-heat oven to 375 F. In a large mixing bowl, beat butter, sugar, eggs and Nutella until well blended; set aside.
In another bowl, stir together flour, soda, salt and chocolate chips. Stir flour mixture into
Nutella mixture, alternating with vanilla and milk.
Drop by tablespoons onto ungreased baking sheets. Bake 10 to 12 minutes. Allow to cool several minutes on the baking sheets, then remove to wire racks to cool completely.
Makes about 30 cookies.
All text and images on this site have ALL RIGHTS RESERVED Copyright (c) 2006 by Peabody Rudd.