I had this once at a French restaurant and it was so sinfully wonderful and yet I never went home and made it for the simple reason that I didn't have the special dish required to do so. I finally broke down and bought some mini ones in hopes of serving them at a dinner party one of these days. They are cute little dishes, almost always in the shape of hearts. One might argue that the reason they are shaped like hearts is to remind you that you are clogging yours with all that cream and cream cheese 🙂 But no, coeur is the french word for heart and so it makes perfect sense to make the dish in the shape of a heart.
Once you have the actual dishes, it really is fairly simple to make. And once you eat the dish you will imediately go to the store and buy a pair of pants in the next size because you will be needing them. Why you ask? Although you will of had full intentions of serving your 8 mini coeur a la cremes to your guest somehow they will have all of disappeared into your belly. It wont be your fault really. Your eyes will glaze over and you will go to a happy place and when you awake there will be nothing but a few dribbles of raspberry sauce on the plate.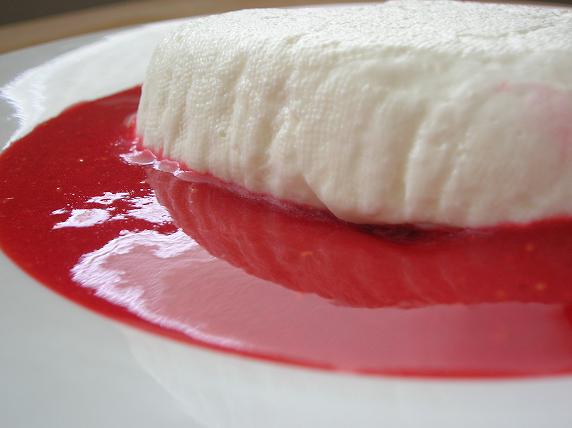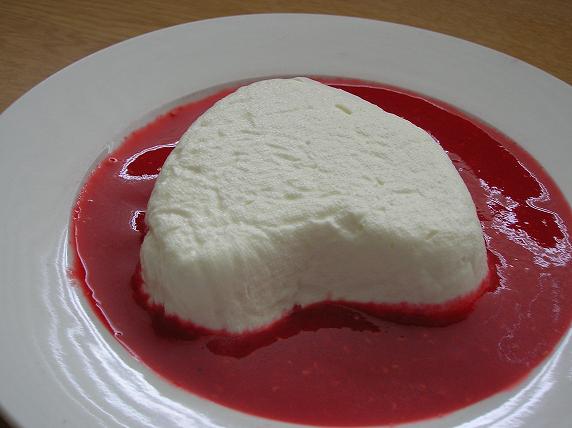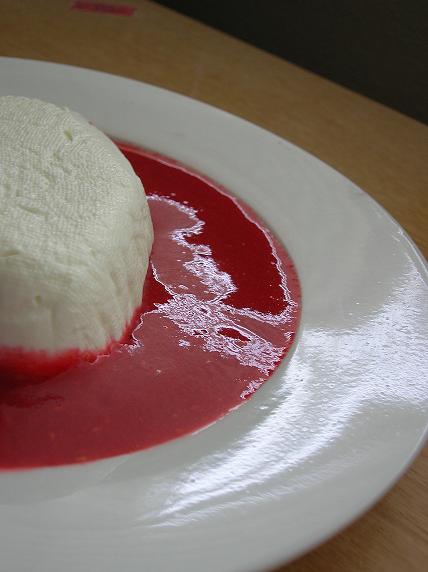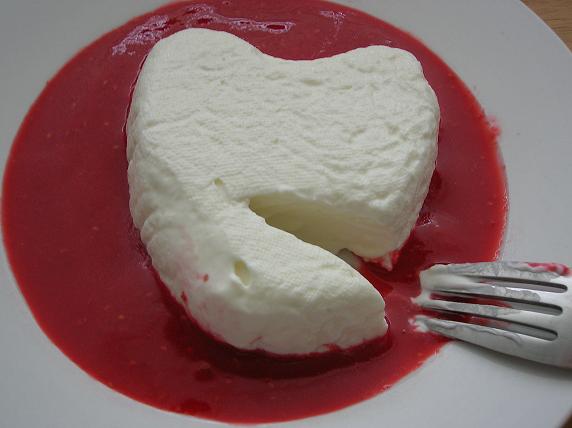 Coeur a la Creme
12 ounces cream cheese, at room temperature*
1 1/4 cups confectioners' sugar
2 1/2 cups cold heavy cream
2 teaspoons pure vanilla extract
1/4 teaspoon grated lemon zest
1 vanilla bean, seeds scraped from
Place the cream cheese and confectioners' sugar in the bowl of an electric mixer fitted with the paddle attachment and beat on high speed for 2 minutes. Scrape down the beater and bowl with a rubber spatula and change the beater for the whisk attachment. With the mixer on low speed, add the heavy cream, vanilla, lemon zest, and vanilla bean seeds and beat on high speed until the mixture is very thick, like whipped cream.
Line a 7-inch sieve with cheesecloth so the ends drape over the sides and suspend it over a bowl, making sure that there is space between the bottom of the sieve and the bottom of the bowl for the liquid to drain. Pour the cream mixture into the cheesecloth, fold the ends over the top, and refrigerate overnight.
To serve, discard the liquid, unmold the cream onto a plate.
Source: Barefoot in Paris by Ina Garten
* I deviate from the recipe and use 160z of cream cheese….I like mine to be a little more solid.
Raspberry Sauce:
1/2 pt. raspberries
1/2 c. water
1/4 c. sugar
Make raspberry sauce by combining all ingredients and bringing them to a boil. Strain and cool the sauce.