A tale of two bruschetta:
I wanted to participate in this event after seeing the lovely photography on Bron Marshalls site. I have been bugging the Cream Puff about her photographs and come to find out that her and I have similar cameras(she has the better version of mine). This gave me hope. So after seeing the lovely bruschetta I knew I wanted to join in. Right away I knew what I wanted to make…and then I read the rules….you must make 2 types of bruschetta. Hmmmmm, that made things tougher.
So I shall start with the one I wanted to do right away. It is an adaptation of a salad that I make a lot and thought it would be quite interesting as bruschetta. I had REALLY wanted to make it on Cinnamon Brioche, but alas it is way too hot here still to fire up the oven. So I had to improvise a tad…but isn't that half the fun of cooking?
Drunken Melon and Raspberry Bruschetta with Chive Scented Cream Cheese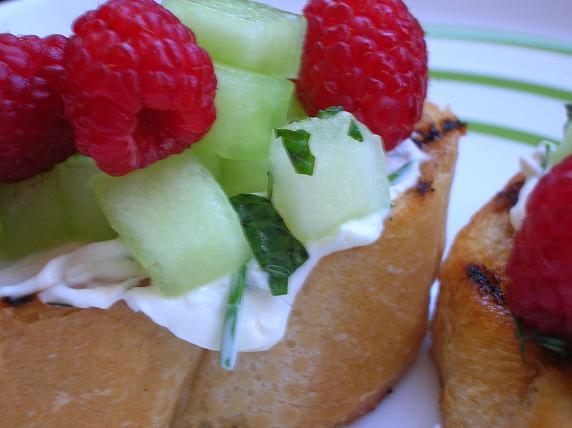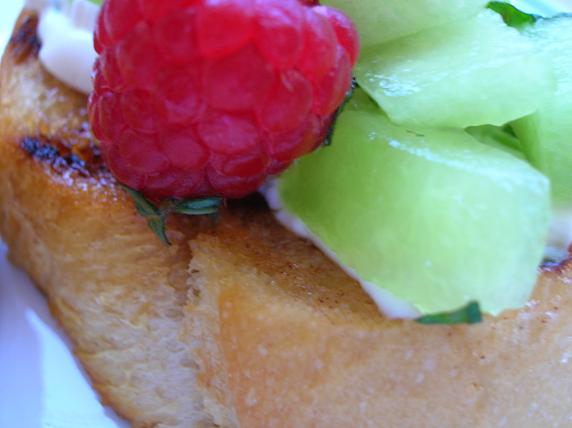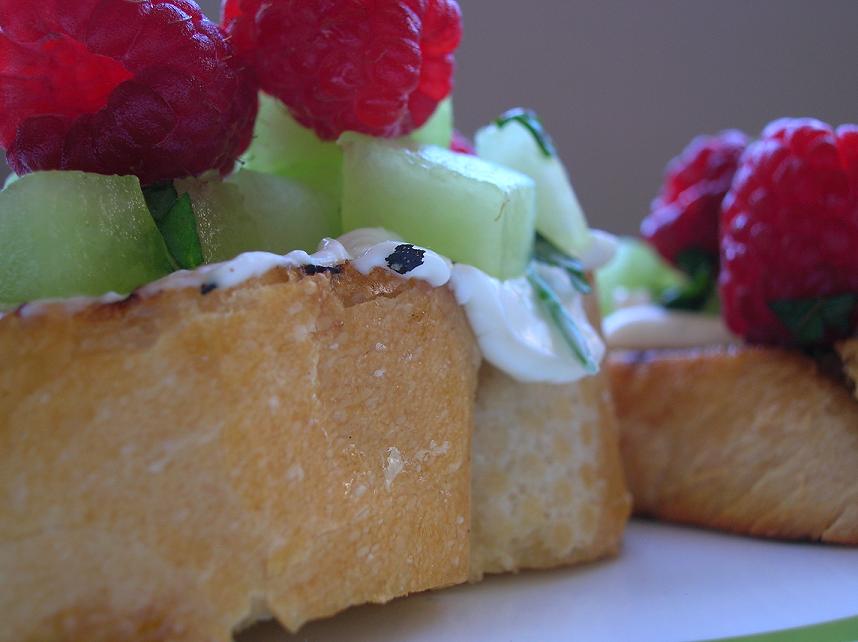 Bruschetta:
I just bought a baguette from the bakery(no baking for me this week). Instead of olive oil I used clarrified butter. I also put in 2 tsp of cinnamon and 3 tsp of sugar. Mixed it together and buttered both sides and put on my grill pan.
Chive Scented Cream Cheese:
1/4 pound of cream cheese
1 TBSP chopped fresh chives
Place the cream cheese in a bowl of an electric mixer fitted with a paddle. Beat on high speed for 1 minute, until smooth. Add the chives and beat on high for 3 minutes until combined. Set aside.
Drunken Melon and Raspberries:
1/2 cup orange flavored vodka
1/2 cup orange juice
1 TBSP sugar
1 small ripe honey dew melon, peeled, seeded and cut into small pieces
1 TBSP finely minced fresh mint
1/2 cup fresh raspberries
In a large bowl, whisk together the vodka, orange juice, and sugar. Add the melon and the mint and use a spatula to combine the ingredients. Cover the bowl with plastic wrap and set aside at room temperature for 1 hour. Fold berries in at last minute when ready to assemble.
To Assemlbe:
Take bruschetta and place a thin layer of cream cheese spread. Top the bruschetta with the Drunken Melon mixture. Enjoy.
Since I had already done a more sweet bruschetta, I decided that my next one would have to be savory. I had a lot of cauliflower so I decided to do something with that.
Marinated Cauliflower, Celery and Red Onion Bruschetta: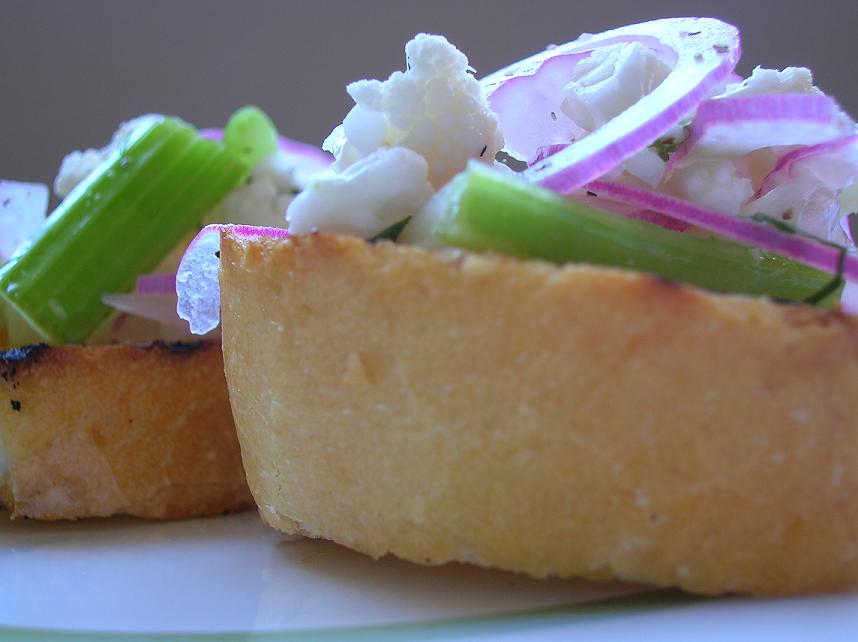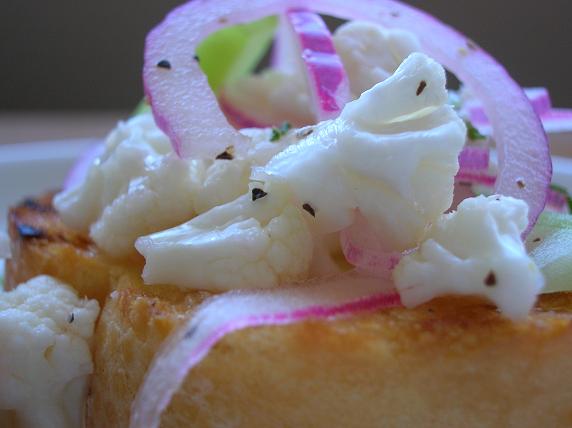 Bruschetta:
Same bakery bought bread, just this time no cinnamon and sugar…just butter.
Marinated Cauliflower, Celery and Red Onion:
1/2 head white cauliflower, trimmed, cored, cut into small pieces
2 stalks of celery, trimmed and cut into strips about 1/4 inch thick
1/2 large red onion
1 cup dry white wine
1/4 cup white wine vinegar
2 cloves garlic, peeled
1/2 lemon, cut into 1/2 inch pices, seeds removed
2 tsp whole black peppercorns
1/4 cup extra-virgin olive oil
salt and pepper to taste
Place the cauliflower, celery and red onion in a saucepan and set aside. Heat the wine, vinegar, garlic, lemon pieces, peppercorns and bay leaf in a saucepan over medium-high heat. Bring the marinade to a boil, then adjust the heat and simmer for 10 minutes. Strain the marinade and pour over the vegetables. Heat the vegetables in the marinade over medium-high heat. The minute the marinade begins to boil, remove from heat and transfer to a bowl. Add the olive oil and season with salt and pepper. Immediately cover tightly with plastic wrap and refrigerate for at least one hour.
To Assemble:
Simply place the cauliflower mixture atop the bruschetta.