I'm coming into this with just one day before the deadline but just stumbled across the food blog and thought it seemed like such a fun idea that I didn't want to pass it up. It was a little tricky since I had no oven and had to think of something I could make that would not involve that appliance.
Since I lived in Arizona for much of my life I chose Mexico as my first influence. But since I now live in Seattle I decided to add a Pacific Northwest twist to it.
Tostadita De Salmon
2 ounce smoked salmon
4 corn tortillas, mini about 4″
1 cup sour cream
1/2 cup tri-color bell pepper, diced
1 teaspoon horseradish, to taste
salt and pepper, to taste
1/2 jalapeno pepper, finely minced
1 cup crumbled goat cheese
3 cups oil, for deep frying
1. Heat oil to 212 degrees.
2. Deep fry corn tortillas until golden brown. Place on paper towel to absorb extra oil. Lightly salt. Set aside.
3. Mince a mixture of tri-colored bell peppers. FIne mince the jalapeno and add to the bell peppers. Mix well.
4. Add horseradish to sour cream and finish with salt and pepper to taste.
5. Spread cream mixture evenly on a tostadida shell
6. Spread a layer of bell pepper mixture evenly over the cream mixture.
7. Lay a thin layer of smoked salmon over the top of the pepper mix.
8. Garmish with a light touch of goat cheese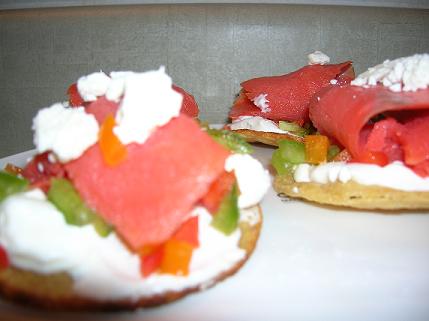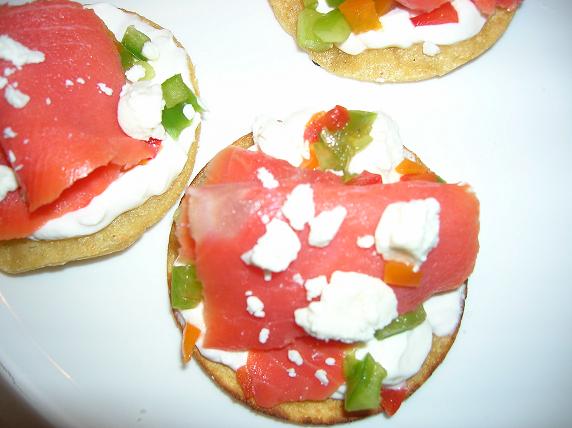 I was going to make raspberry Margartias to keep with the Mexico theme but it is late here and I don't think the downstairs neighbors would appreciate the blender running at 2am. So I had a bunch of key limes from a frozen souffle I made(for SHF…recipe will be up in a week and a half) and decided to make something with those. Key limes though often thought of as being a Florida "thing" actually has it's orgins in Southeast Asia.
Key Lime Gimlet
3 oz Citrus flavored vodka
– 3/4 oz Key Lime Juice
– 3/4 oz Simple Syrup
Shake with ice in a cocktail shaker, strain into a martini glass. Garnish with a lime wheel.