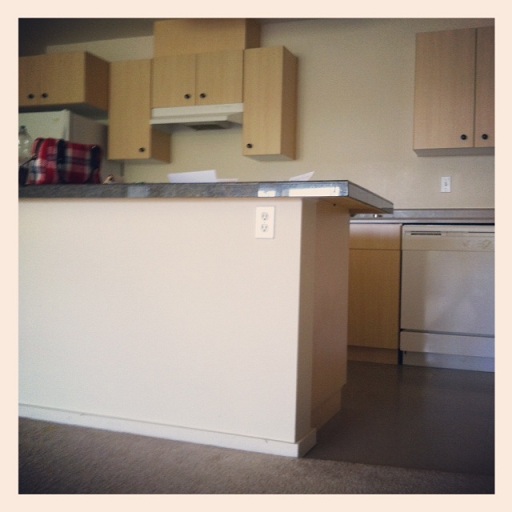 I get pretty sentimental about the places I have lived in. And while home is with the people you make it with, places you live do provide memories. MDP made fun of me for being a little misty eyed that we were leaving our apartment. And while I love the idea of literally double the space I get mushy over the fact that it was the first place we lived and where our relationship grew and changed.
If I were to equate my move to an ice cream I would say without a doubt it was Rocky Road…extra chunky.
I'll start with the good things…it's always good to focus on the good things:
As mentioned above we literally doubled our space. Things are cramped and we are able to spread out…or at least I think once all the boxes are unpacked. 🙂 And for the first time ever I have my own office. Which is incredibly nice.
My pantry. It's large and in charge. My old apartment didn't even have a pantry and 5 of my cabinets were for food and the rest was scattered throughout the apartment. It was not good. As you can see the new awesome! It goes all the way underneath the stairs.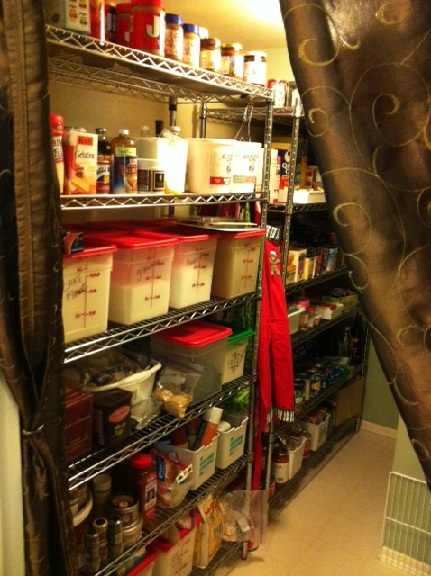 No more going up and down three flights of stairs. Though without those stairs MDP would not have lost 9 pounds since last Wednesday without even trying. I of course only lost 2. Ah the joys of being a woman.
I have a gas stove again!
I have a garden tub. It makes me very happy.
We got a good deal on some used washer and dryers on Craigslist that were right down the street and were delivered to us. And I have a separate laundry area…also nice.
And now the not so awesome:
The movers I hired when I moved to my apartment were great. So I hired them again. Not so great this time. They were way slower (aka costing more) and complained often about the stairs and that I had heavy stuff. Why yes I know I live on the third floor and have heavy stuff…that is why I hired PROFESSIONAL MOVERS. Duh. In good news they didn't break anything or damage anything that I could see. Hard to do when we only moved 1/10 of a mile away…for real.
The very first day we moved in I got stung by a wasp in the garage. I'm allergic. It was not good to put it mildly. Had bug guy come out on Friday. He found 8…yes 8 wasp nests and killed them. He unfortunately also found rodent droppings and damage in the crawl space. This area is known for a certain type of rat (Norway) and while there are none down there now that it looks like come cooler temps looks like we might be in for some fun. We also seem to be the house of bugs. I have never seen so many bugs in one place in all my life.
We thought it would be awesome to move during a 90 degree plus heat wave.
The people who lived here before us have a different standard of clean than us. They surface cleaned if that and I still can't use the oven until MDP cleans it for me as I am allergic to oven cleaner. Boo.
We currently don't have a working ice maker and the door to the fridge has to have something against it to keep it closed. It will close but then slowly pop open.
Our cable/internet wasn't working for days and someone finally had to come out. Props to Comcast though for working 365 days a year…so they were here on a Sunday. My computer was/is fried. But my ex spent all day Sunday getting it to limp along…yay for the picky eater!
MDP and I are wiped out from the move. I still have all of my clothing to put away. I keep washing and wearing the same few things over and over again. 😛
It will all come together I have no doubt. Just things won't be fully back to normal for a bit. So I appreciate your patience!