We have a cupcake place not too far from me that has very pretty cupcakes. Very, very pretty cupcakes. And very dry, not so great, pretty cupcakes. I have no idea how these people stay in business other than the cardinal rule of location, location, location. I know people who have had their cupcakes and say they aren't good, so it's not just me. Yet oddly enough they go back. And when I ask why they say, well its right there and they look so cute is the response I get.
We have become a society of what is convenient and what looks good over what tastes good and what is worth it. Now don't get me wrong, there are some pretty cupcake cakes that taste pretty freaking awesome….Cupcake Royal makes an awesome strawberry flavor that only comes out one month a year that is swoon worthy. But for the most part I find the good ol' cupcakes I make at home to be significantly better than what you find out there. My friends tell me all the time when they bite into one how much better mine are than the ones they buy at the fancy shops. Yep, I know this. 🙂
We are a society of visual creatures. Look at the dating world. Beauty gets the attention. Always does. But let's remember this. Beauty may get the attention but personality gets the heart. There is a lot of pretty ugly out there. You know who I mean, the women who look gorgeous and spend their time and money (well usually not their money) to look hot…but two minutes into talking to them and you want to slap them silly. Though sometimes it doesn't always come out right away. I have what I call the 6 month rule when I dating. Anyone can be anything for 6 months (give or take a few months). After that unless you're a sociopath your true colors will eventually shine through.
I frosted my cupcakes two different ways to prove a point. They are the same recipe, same everything but some of the cupcakes got frosted with a knife and the other had frosting piped on to them. Anyone want to guess which ones went first?
We need to stop looking at pretty people/things and start seeking out the beautiful people/things of the world. If you are smart you know the difference.
I'm only giving the recipe for the frosting this time. These are just devils food cupcakes you can find a million recipes for those. This frosting is based off of the Cold Stone ice cream flavor of the filling of Oreo Cookies. Not cookies and cream but the actual filling. It tastes just like it and it is so wrong yet so right all at the same time. 🙂 I felt a little guilty scraping all the middles out but that guilt went away when I was eating the cupcakes. 😛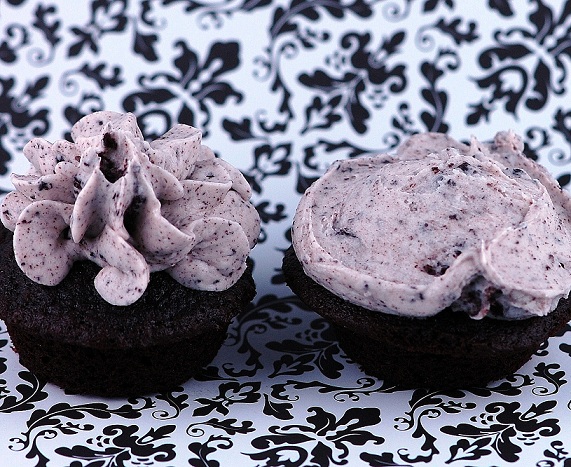 Double Stuff Oreo Filling Buttercream Frosting
6 ounces unsalted butter, at room temperature
Double Stuff Filling from 25 Oreos
5 Double Stuff Oreos
3-4 cups of powdered sugar
Milk to thin
Using a stand mixer with the paddle attachment, beat butter and Oreo filling for about 3 minutes on medium-high speed. Make sure you can't see any filling bits.
Add the powdered sugar, one cup at a time until you reach desired consistency.
Add Oreos and beat until they are crushed into the frosting, you don't really want too many chunks.
If frosting is too thick, thin with milk.