This week's installment of Way Back Wednesday is a bittersweet one. It comes from what I made for my housewarming party back in 2007 when I was so excited to be moving into my new home. It ties in sort of with a readers question so I thought it seemed like a good choice:
Is being single after marriage scary? What advice would you give to someone who is going through a divorce for how to get through it?
Getting through it? Well, I am still getting through it so to speak. When I was first was going through it I pretty much thought I was crazy. I would be happy and content thinking yes clearly this was the way to go, and literally an hour later bawling my eyes out freaking out. But with time that passes. I still randomly cry if I run across something but it helps that my ex and I still talk and see each other from time to time. There was no, I will never see this person again in my life.
I think people feel like when they get divorced or they break up (especially if they are the ones that got let go) that they are damaged goods. Repeat after me, you are not damaged goods. Sometimes people are not good fits for each other and one of them realizes this (or you both do). Wanting to stay with someone because you aren't a good fit anymore doesn't make sense. Neither does getting upset over the fact that they didn't pick you…you were "perfect together". No one is perfect together. And if you were so perfect you would still be together. If you have never seen the movie 500 Days of summer this illustrates this point beautifully…so go out and rent it.
Is being single after marriage scary? I am very fortunate for the fact that my most favorite thing other than baking is to of course play ice hockey. I play ice hockey with guys. And while there are other women in the league let's just say that the odds are in my favor. 😉 Now granted not all of them are single, but many of them are. Our league seems to be made up of a lot of early 40 something divorced dads. Hockey playing guys LOVE girls that play hockey. You automatically have something in common; you play a sport, which also means you watch that sport. Which means he isn't going to be nagged for watching the game because you are right there watching it with him. If you play in men's league they know you can hang with the boys quite well (and I can), which is another advantage as well…because often you are brought along to boys night out. And they are fairly casual in how they ask, it's usually over a beer in the bar. "I hear you aren't married anymore, ever want to hang out let me know". And that's about all there is too it. Plus I luck out for the fact that they have seen and smelled me at my worse, so just me showering and putting on street clothing is a step up. 🙂
So my advice if you are newly single is of course first decided if you are really ready to date? Don't date because your friends tell you it's time to get out there. Only you can know that. Chances are if you are the one who asked for the divorce you might have been emotionally detached for a while, or if you both mutually agreed. But it might take longer if you were the one who didn't see it coming. Go at your own pace. BUT don't sit at home doing nothing feeling sorry for yourself. Get out and do the things you love. If you are doing things you love you will most likely meet someone that enjoys your hobby and you will automatically have something in common to build on from there.
Of course I never saw myself at this age and not being married. In some ways it's almost the image of where you thought you would be in life that hurts now. Back living in an apartment, living month to month financially. Ramen is back to being a food group. Not exactly where I wanted to be. Certainly I miss my ex at times, but we have maintained a friendship so that helps with that. I still send him emails when I find something funny or something that I think he would like, just like I would for any friend.
I will admit that I miss my kitchen greatly. This posts makes me melancholy just thinking about it, after all it's why we bought the house. But I seem to be producing baked goods for the most part unscathed and so I can't complain now can I. 🙂 This cake was fun and whimsical and I realize sticks out like a sore thumb in the middle of July. But if Hallmark can put out Christmas stuff now, gosh darn it I can put up peppermint (candy cane) recipes on my blog. If you can't find candy canes (though who knows) you can always buy the round pepper mint candies.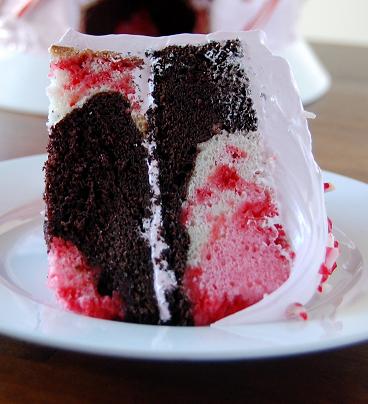 Chocolate Peppermint Stick Marshmallow Fantasy Cake
White Cake Batter
Chocolate Cake Batter
Marshmallow Frosting
Mini Candy Canes(for decoration)
Crushed Candy Canes(for decoration)
Classic White Cake
12 tablespoons (1 1/2 sticks) unsalted butter, softened
1 1/2 cups sugar
2 cups all purpose flour
2 teaspoons baking powder
1/4 teaspoon salt
6 large egg whites (3/4 cup)
3/4 cup milk
2 teaspoons vanilla extract
1 1/2 cups Andes Peppermint Crunch Baking Chips
pink food coloring
Set rack at the middle level in the oven and preheat to 350 degrees.
Butter the bottom of two 9-inch round. Line bottom with parchment or waxed paper.
In a large bowl, beat butter and sugar for about 5 minutes, until light and fluffy. Stir together flour, baking powder and salt. Set aside. Combine egg whites, milk and vanilla extract. Add 1/3 of the flour mixture to the butter mixture then add half the milk mixture. Continue to alternate beginning and ending with flour mixture. Scape the bowl and beater often. Fold in Andes Peppermint Crunch Baking Chips. Take 2/3 of the batter out and place into a separate bowl and set aside. Add 3 drops of pink food coloring to the remaining 1/3. Blend until the batter is pink in color.
Chocolate Cake
1 3/4 cups all purpose flour
2 cups sugar
3/4 cup unsweetened cocoa
1 1/2 teaspoon baking soda
1 1/2 teaspoons baking powder
1 teaspoon salt
2 eggs
1 cup milk
1/2 cup vegetable oil
1 teaspoon vanilla
1 cup boiling water
In a large bowl combine flour, sugar, cocoa, baking soda, baking powder and salt. Mix together with a wooden spoon then set aside. In small bowl combine eggs, milk, oil and vanilla. Beat well with hand mixer(or place in a stand mixer). Slowly add boiling water and mix. Add wet ingredients to flour mixture and fold and stir until smooth.
To make the the cake:
Set out both prepared cake pans. In the first pan scoop 2 cups of chocolate batter into the pan, spread out with spatula. Next scoop 1 ½ cups white batter with peppermint chips into the center of the chocolate batter. Spread out to form a circle. Lastly scoop 1 cup of the remaining pink into the center of the pink batter.
For the second pan. Scoop 2 cups white batter with peppermint chips into pan, spread out with a spatula. Scoop 1 ½ cups of the chocolate batter into the center of the white batter, spread out with spatula to form a circle. Scoop 1 cup of the remaining pink batter into the center of the chocolate batter.
You will most likely have leftover batter…if so make cupcakes.
Bake for 30-35 minutes, OR until the center comes out clean. Remove from oven and let cool in pan for 15 minutes. Flip cake over onto a rack and remove parchment or waxed paper. Let cake cool completely before frosting.
Marshmallow Frosting:
4 egg whites
1 ½  cups sugar
½  cup light corn syrup
pinch of salt
2 tsp vanilla
1 tsp peppermint extract
6 drops pink food coloring
Using a large bowl, preferably the top of a double boiler, mix eggs, sugar, corn syrup ans salt until combined. Place the bowl over simmering water ans whisk until the sugar dissolves and the mixture is hot, about 3 minutes(be careful to not make it too hot since you are using eggs and don¢â¬â"¢t want them to scramble). Remove heat and beat 5-7 minutes until frosting is cool and stiff peaks form. Beat in vanilla and peppermint extract. Add food coloring and beat until all the color is incorporated.
To assemble the cake:
Place one cake layer on cake plate. Take one cup of frosting and spread it out evenly onto the layer. Place the second layer on top of the frosted layer. Use remainder of frosting to frost top and sides of cake. Decorate top of cake with crushed candy canes. Decorate side of cake with mini candy canes.
Source: Cake recipes adapted from Food Network.com, frosting recipe adapted from Cupcakes Galore by Gail Wagman