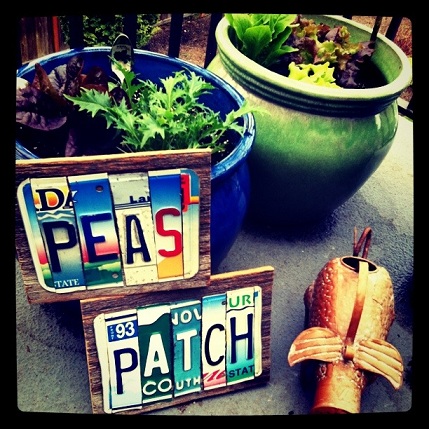 It's time once again to check in and see how my container farm is coming along. I must say it was pretty cool when realizing I forgot fresh parsley at the grocery store for my Bolognese sauce, that I had some just outside. And with a couple of snips, I had the amount needed for the recipe. There is something extremely satisfying about using food that you grew yourself.The weather is still my main issue around here, as we tend to not get above 50F on average…it's May! But the peas and Swiss chard don't seem to notice at all, they are growing nicely. The broccoli and lettuces are also responding well to the weather. What doesn't seem to be growing all that well so far is the spinach (which I am a little sad about) and some of the herbs, especially the dill. I'm not giving up on them of course, I know they wish they had more sun (5-6 hours ideally), but they will just have to work with what the Pacific Northwest is giving them.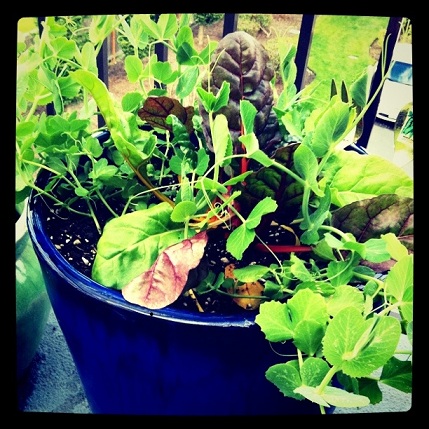 Now that most of my produce is planted (I'm going to try a couple more things…more on that later on), the next thing I have been working on is giving my farm character. Because of my small space, my farm not only acts as a viable source of food, it acts as beautification for my patio. Which is why when choosing my pots, I went for bolder colors since the majority of the plants I am growing are all green. One thing I knew I wanted was to make markers. I had just planned on making them out of Popsicle sticks, but my friend Jill was quick to find a much cuter idea for me. I have no crafting ability whatsoever, so she was kind enough to make them for me. She found vintage graphics and what she couldn't find she made using clip art. We used spoons, forks, and even a pie server, which were all found quite cheaply at the local Goodwill. You definitely don't need them to match. If you have any interest in making them for your farm, here is a link that shows you how to do it. For those wondering how they hold up in rainy weather, so far so good! I also felt that my farm needed a sign to make it my own. I found someone to make me a funky sign using old license plates. I think it fits nicely into the theme of my farm, don't you?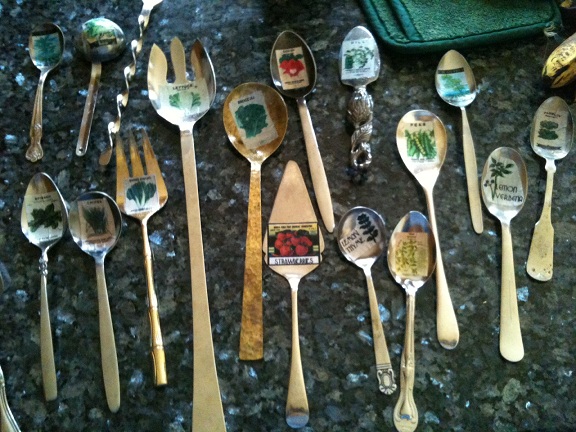 One of my big concerns was watering. I am the girl after all who killed a cactus by over watering it. So it was really important to me to learn when and how much I should be watering my farm. Triscuit Home Farming website has a great instructional video about watering that was very helpful. If you are growing a farm and haven't checked out the videos yet, you should. Lots of good information in those videos.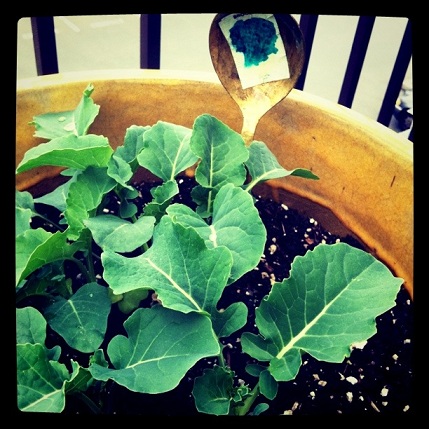 I have one more idea I want to try out. I found a pallet garden a couple weeks back and loved the idea. The original idea was for flowers, so I am not sure how it will do with herbs and veggies, but I think it is worth the try. I am also tossing around the idea of edible flowers. As you can see from the photo, the palate is still in the process of being built. So stay tuned to see how that project will be turning out.

How is your farm coming? If you don't have one, it's still not too late. It doesn't have to be a container garden either. If you are interested in seeing other ideas, please visit the other bloggers who are participating in the Home Farming Movement which you can find at the Better Homes and Gardens Home Farming Challenge Page.
Follow 3 Kids and Us Raised Bed Farm updates and @3kidsandus on Twitter
Follow Mama Dweeb Plot Farm Updates and @mamadweeb on Twitter
Follow Culinary Concoctions by Peabody Container Garden updates and @bakerpeabody on Twitter