Pumpkin Pie Donut Holes: A great way to use up any leftover pumpkin pie you might have.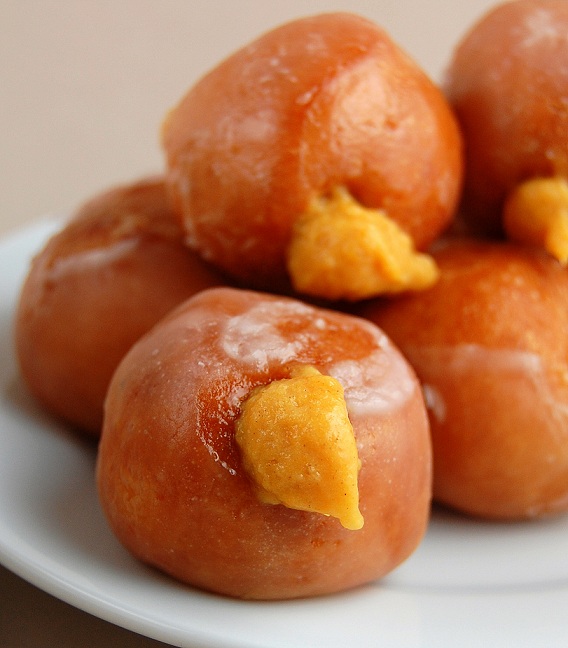 Just a quick post for those looking for ideas to use up leftovers. Now sure everyone has tons of recipes for what to do with leftover turkey and stuffing but what about the pie? I know, just eat the pie and that is perfectly fine.
But why just eat leftover pie when you can stuff it into donut holes?!?!?! Yes, that's right, I have once again found a way to take something like pie and make it just a little bit worse for you. 🙂 It's a skill.
Seriously though, donut holes stuffed with pumpkin pie filling are a great breakfast treat for the kids and let's face it, adults too, the day after Thanksgiving.

Pumpkin Pie Filled Glazed Donut Holes
3/4 cup scalded milk
1/3 cup granulated sugar
1/4 tsp. salt
1 (.25 ounce) envelope active dry yeast
1/4 cup warm water
4 cups sifted all-purpose flour
½ tsp. pumpkin pie spice
1/3 cup unsalted
2 eggs, beaten
Oil for deep frying
For glaze:
2 cups confectioners' sugar
6 tablespoons milk
For filling:
2 cups fully baked pumpkin pie (just scoop out the filling, no crust)
4 TBSP heavy whipping cream
In a medium bowl, stir together the scalded milk, sugar, and salt. Set aside to cool until tepid. If using nutmeg, stir it into the flour, and add 2 cups of the mixture to the milk, and beat until well blended.
In a small bowl, dissolve the yeast in warm water. Stir into the milk and flour mixture, and then mix in the butter and eggs. Mix in the remaining flour 1/2 cup at a time. When dough is firm enough, turn it out onto a floured surface, and knead for 3 to 4 minutes. Place into an oiled bowl, cover and allow dough to rise until doubled in bulk. This should take 30 to 45 minutes.
On a lightly floured surface, roll the dough out to 1/2 inch in thickness. Cut into donut hole size with a circle cutter. Set aside to rise for 30 to 40 minutes, or until light.
Heat one inch of oil in a deep heavy frying pan to 375 degrees F (190 degrees C). Fry donuts a few at a time. Cook on each side until golden brown, and then remove to drain on paper towels. Glaze while warm, or just sprinkle with sugar.
To make the glaze, stir together the confectioners' sugar and 6 tablespoons milk until smooth. Dip warm donuts into glaze, and set aside to cool.
To make the filling simply mix the cream and pie filling together in a bowl. Put into a piping bag. Using a small tip (so that it will poke into the donut but big enough for filling to come out) pipe filling into center of donut hole.

Recipe adapted from Allrecipes.com