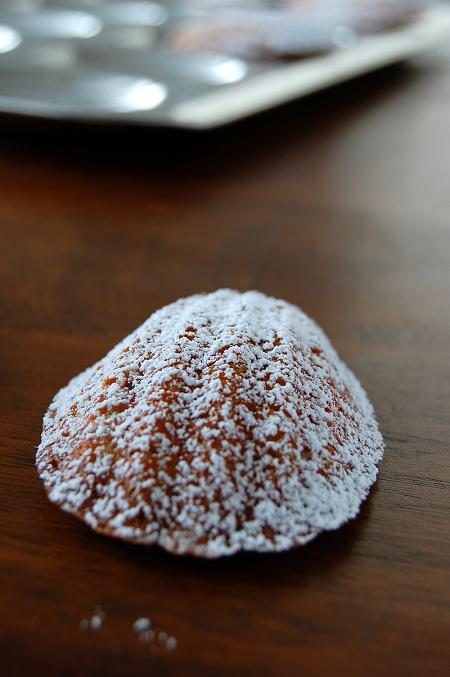 While going through my Google Reader one day I ran into gorgeous looking cashew bars on Bake or Break. I notice that they were from the Sweet Melissa Baking Book. Oh my, how good those looked. And then all I could think of was, where is my copy? Hurry up stupid mail.
Then, as if someone was listening, there in my mail that day was my copy. Ah.
I quickly thumbed through it as I do with all cookbooks and I write down right away what sticks out at me. Those cashew bars(Butterscotch Cashew Bars to be exact) did. I will make them. Granola Breakfast Cookies, which I will be making next.  Bee Stings which are Melissa's answer to doughnuts…she has no fryer at her bakery. The Chocolate Espresso Cheesecake with Blackberry Glaze sounded very Pacific Northwest so I flagged that one too. But the one I knew I wanted to make right away were the Chestnut Honey Madeleines. You see, ever since I bought those pans I am always looking for a good madeleines recipe. I found one.
What caught my eye was description up top that they were featherweight cake. In all of my limited madeleines baking, none of them have been what I would call featherweight. These most definitely were. I tried both the mini and the regular size pan and must say that for this recipe the regular size pan is the way to go. If you can not find the chestnut honey(I had to go to three places) than use clover. But there is a subtle difference that is nice. I own a cinnamon crème honey that I plan on trying these out with as well.
For those that don't know, Sweet Melissa is an actual bakery, in Brooklyn NY. It's full name is Sweet Melissa Patisseries. Sweet Melissa is Melissa Murphy. The first thing you notice about the book is that there are little bees drawn through out it. There is a reason for this. Honey. Melissa uses honey in a lot of her recipes, which is what gives so many of her treats that something special. I know the chestnut honey sure made the Chestnut Honey Madeleines something special.
There isn't much not to love about this cookbook(my only complaint is my usual one…not enough photos). These are good solid recipes that are not fluffed up(no deconstruction and big towering desserts). Simple and good.
 If you are a novice baker you will find that the instructions are easy to follow and the results will be positive ones for you. If you are a veteran baker like myself you find little twists on classics that you most likely didn't think about. All around, if you are a baker, you should be owning this book. If you are not a baker and you want to be…you should be owning this book.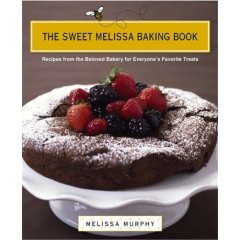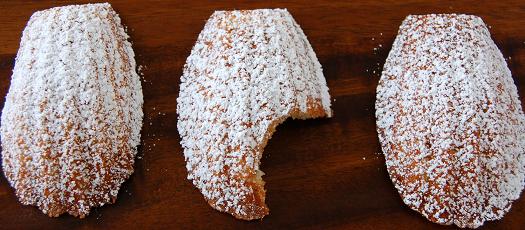 Chestnut Honey Madeleines
½ cup hazelnut flour
1 2/3 cup confectioner's sugar, plus more for dusting
½ cup plus 1 TBSP all-purpose flour
13 TBSP unsalted butter
6 large egg whites
1 TBSP chestnut honey(or clover if you can not find chestnut)
Butter and lightly flour two 12-cup madeleine molds. Refrigerate until ready to use.
In a large bowl, whisk together the hazelnut flour, all-purpose flour, and confectioner's sugar.
In a small heavy-bottomed saucepan over medium heat, melt the butter until the butter solids at the bottom of the pan turn golden brown. Immediately remove from the heat and strain into a bowl to stop the cooking.
In the bowl of an eletric mixer fitted with the whip attachment, beat the egg whites until foamy. Add the flour mixture and mix until combined. Add the butter and honey and mix until combined.
Spoon batter into prepared molds, filling almost to the top. Refrigerate for 2 hours.
Position rack in the top and bottom thirds of your oven. Preheat oven to 375F.
Remove the filled molds from the refrigerator. Bake for 15-20 minutes, or until golden brown. After removing from the oven, immediately tap the pans on your work surface to release the madeleines. Transfer to a rack to cool completely.
To serve, turn the madeleines scallop side up and dust with confectioner's sugar.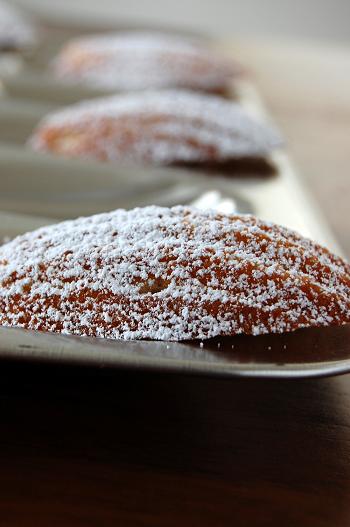 Adapted from Sweet Melissa Baking Book by Melissa Murphy, Penguin Group 2008