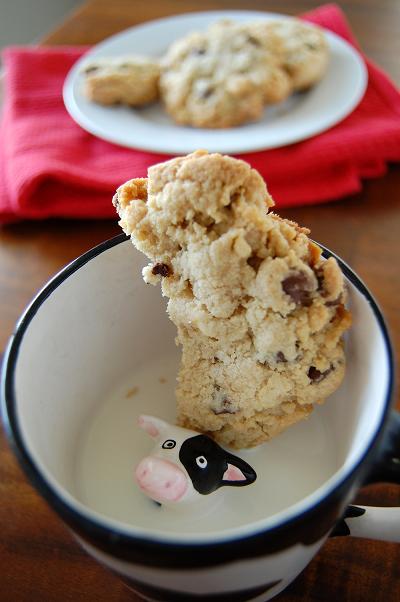 I will admit that next to pies, cookies are my least favorite thing to bake. They didn't used to be until I married mister no variety. In the beginning, I would make him all types of different cookies and would he appreciate it?…no. He would simply ask why didn't I make chocolate chip cookies. Grrr. And so my cookie making for the most part has been dwindled down to three types: chocolate chip, peanut butter and sugar. Oh sure if I am going somewhere I will make a different variety, but sadly if I am just making for him, that is what I bake.
So when I was presented with the opportunity to review 101 Easy Peasy Cookie Recipes, I thought, yes, I am going to put the variety back into my husbands unexciting cookie life. Not wanting to send his body into total shock, I eased into one that I thought he would enjoy, Colossal Double Chocolate White Chip Cookies. And enjoy he did. The only thing I changed from the recipe was the nuts. It asked for walnuts. I measured out walnut. I sat them by the bowl. They never made it to the bowl. I noticed this after the cookies were baked.
There is definitely variety of cookies in this book. Next on my list are the Pineapple Bars with Caramel Drizzle. Oh the man wont eat them, but I will! For him I will be nice and make the Peanutty Milk Chocolate Bars. Others on the list to make include: Key West Cookies(you know my love of key lime), Toffee Drop Cookies, Chocolate Marshmallow Melts and Sweet Graham Scotchies.
If you are a novice baker this book is great for you because the recipes are, as the name implies, easy peasy. But if you are an experienced baker, don't be turned away, as the shear variety of the cookies is the reason to add this book to your cookbook collection. All the ingredients are readily available at pretty much every grocery store out there, no looking for odd ingredients. Clear and quick instructions. The only thing I would have liked is photos. I always like to see what the end product is looking like.
Oh and before you ask, because I know you will, that cup is 13 years old, so I don't know where you can get it. 🙂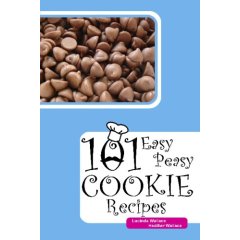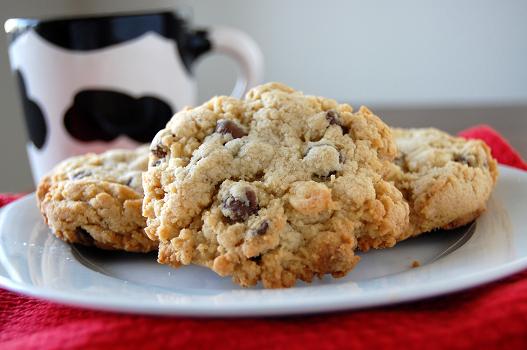 Colossal Double Chocolate White Chip Cookies
4 cups all-purpose flour
1 tsp baking powder
1 tsp baking soda
1 ½ cups unsalted butter, softened
1 ¼ cups granulated sugar
1 ¼ cups packed brown sugar
2 eggs
1 TBSP vanilla extract
1 cup milk chocolate chips
1 cup semi-sweet chocolate chips
½ cup white chocolate chips
Preheat oven to 350F.
In a medium bowl, stir together flour, baking powder, and baking soda.
In a large bowl, cream together butter and sugars. Beat in eggs, one at a time, followed by the vanilla extract.
Gradually stir in flour mixture,
Stir in milk, semi-sweet and white chocolate chips.
Drop by level ¼ cupfuls, about 2 inches apart, onto ungreased cookie sheets. Bake for 12 to 14 minutes or until golden brown. Allow cookies to cool for 2 minutes on cookie sheet and then transfer to a wire rack.
Adapted From: 101 Easy Peasy Cookie Recipes by Lucinda Wallace and Heather Wallace