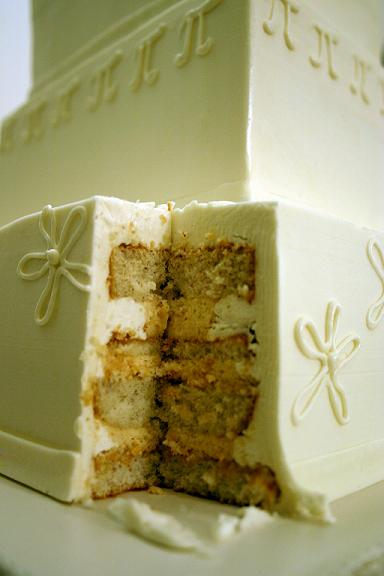 (Picture courtesy of Holly Strand)
So I've been married twice, to the same guy…no we didn't split up and get back together…this isn't Hollywood. We eloped the first time in Vegas with no one there but us. We knew we would have to have a ceremony though that our close friends and family could attend…we just did it 2 years later. The first one had no bells and whistles and the second one was done how we wanted. No dancing(the exception of my dad and I having one dance), no garter tossing, no bridal party(if you don't count the dog). Instead, a 7 course sit down  meal with wine pairing. Our 7th course was the cake of course. That to me was the most stressful of all the courses. Why? Because when you are a pastry gal like me, people expect great cake.
When Justin and I moved here we had no idea where to begin so we went to the Bridal show. Like most bridal shows there was free cake(my favorite part). I went around to several booths tasting okay cake. Then I got to the New Renaissance booth and had the most delicious piece of cake ever. My husband really isn't a cake guy so he didn't go and get a piece… so I told him to go get a piece. "I don't want cake," he said. "Not for you, for me!" We went around and around discussing how I already had a piece but that I wanted more…so off he went to get cake. I stalked the booth about every 30 minutes to try the different flavors but at the end of the day the first flavor we had was the hands down winner.
So to end our fine meal, we served a delectable piece of Banana Fosters cake…banana cake with a caramel mousse and rum syrup with butter cream frosting(the only way to go).
Oh and in case you are wondering what those squiggles on the cake are, that is the mathematical symbol Pi. We purposely got married on March, 14th(3.14) because we are super geeks, and yes Pi was our theme.
And last but not least I would like to thank my husband for all the love and support he has given me and continues to give me on a daily basis….Happy 3rd  Anniversary Honey.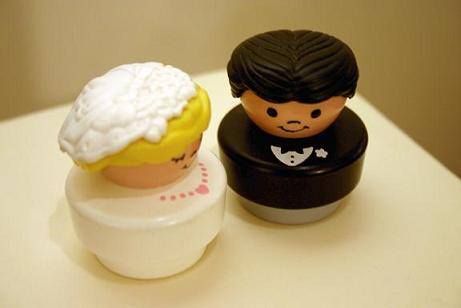 (picture courtesy of Holly Strand…and yes I really did use Fisher Price people as my cake toppers)