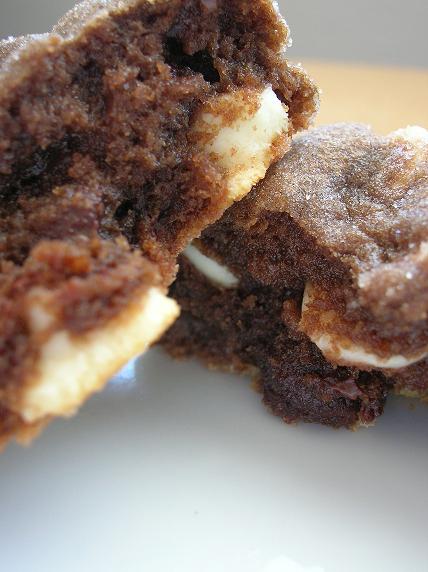 So I'm sick. I'm sort of snotty and definitely achy and I am running many a fever. Yet for some reason every time I get sick I feel the need to clean. Now I never really have the energy to clean when I am this sick so I try to find things to clean or organize while I sit. The bottom shelf of my pantry holds all my baking needs and so I started to rummage through that in hopes of making some sense out of it all. I have left over bags of dried fruit and chocolate through out the shelf. I decided to gather up my 1/3 cup of mini chocolate chips, my 1/3 of cup of dried cherries, my 1/2 cup of white chocolate chips and my 1/2 cup of bittersweet chocolate chips and do something with them so they would stop cluttering my shelf. So I made cookies. Don't worry the only person eating my sick cookies is my also equally sick husband. So I am not infecting others with my diseased cookies(though for the right price I will gladly ship them to a relative you don't like or maybe an annoying co-worker of yours).
I'm not sure why I chose to bake today. I was running a fever and it was 76 degrees, which is pretty warm for this time of year here…but obviously the fever made me more delirious than what I usually am and I fired up the oven. I just used a basic cookie base and started adding to it. I rolled them in sugar to give them an extra little crunch.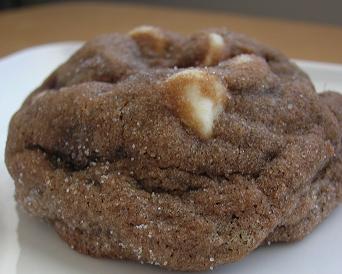 Cleaning Out My Pantry Cookies
1 cup unsalted butter
3/4 cup brown sugar
3/4 cup powdered sugar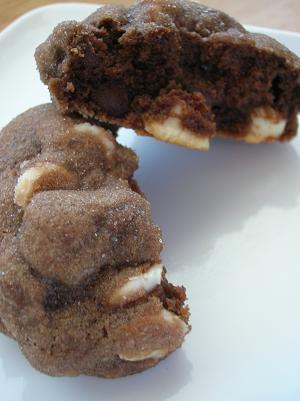 2 eggs
1 tsp vanilla
1 tsp baking soda
1 tsp salt
2 1/2 cups flour
1/3 cup cocoa powder
1/3 cup mini chocolate chips
1/3 cup dried cherries
1/2 cup white chocolate chips
1/2 cup bittersweet chocolate chips
1/2 cup granulated sugar(for rolling)
1. Cream the butter and sugars(brown and powdered) together, about 3 minutes. Add in eggs, one at a time. Scrape down the bowl using a spatula.
2. Add vanilla and mix for one more minute.
3. Slowly add in the flour, baking soda, salt and cocoa powder.
4. Add the various chips and dried cherries and mix until incorporated.
5. Roll cookies into a ball and roll in granulate sugar.
6.. Bake at 375F for 9-10 minutes.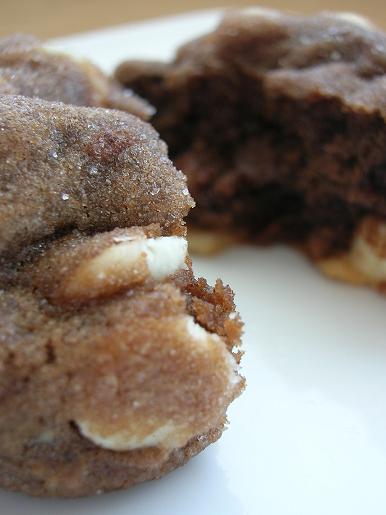 All text and images on this site have ALL RIGHTS RESERVED Copyright (c) 2006 by Peabody Rudd.