Reading other people's food blogs is one of my favorite past times. Not only for the obvious reasons of oogling good food but it always reminds me of recipes I already had and forgot about or cookbooks that have collected a bit too much dust on the shelf. I swear that the The Candian Baker has all of my cookbooks. But one cookbook I do not have is All the Best Muffins and Quick Breads by Joie Warner. She had made a chocolate muffin that looked yummy and so I thought I would give them I try. I had a few changes to mine. I only had a half a cup of buttermilk left so the other half was cream. I did add 2 cups of semi-sweet chocolate chips and I baked them at 350F as the Canadian Baker suggested. Also be warned, this batter(or at least mine) was like tar…thick and sticky and kind of a pain to get into the muffin tins.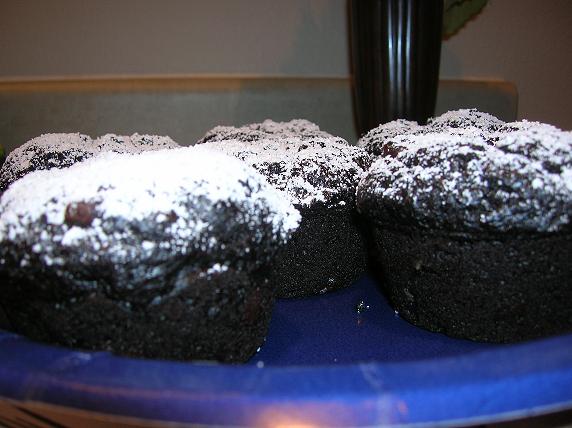 Chocolate Intensity Muffins
2 cups all-purpose flour
3/4 cup unsweetened cocoa powder
1 1/4 cups sugar
1 tbsp baking powder
1/2 tsp baking soda
1/2 tsp salt
2 large eggs
1 cup buttermilk
1/2 cup (4 oz) butter, melted
1 tsp vanilla
Confectioners' sugar (optional)
Preheat oven to 400 F. Coat 12-cup muffin pan with vegetable spray, including top edges: muffins rise above the pan. (Coat thoroughly; these muffins have a tendency to stick.)
Add flour to large bowl. Sift in cocoa powder. Add sugar, baking powder, baking soda and salt and thoroughly combine.
Whisk eggs, buttermilk, butter and vanilla in medium bowl until blended. Pour liquid mixture over dry ingredients and fold in with rubber spatula just until combined; do not overmix.
Spoon batter into prepared muffin cups, dividing it evenly. Bake for 20 minutes or until tester comes out clean. Carefully turn out onto rack. Using tiny sieve, generously dust tops of muffins with confectioners' sugar if desired. Makes 12 muffins.
Source: All the Best Muffins and Quick Breads by Joie Warner, 1992