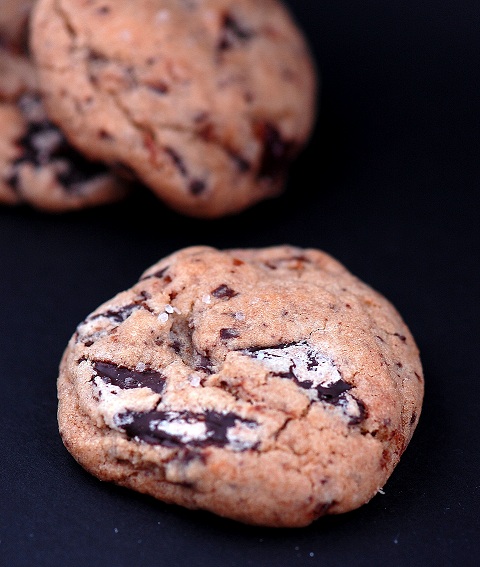 It's Valentine's Day. If you have someone in your life celebrate by helping out your local florist or chocolatier. If you don't have anyone in your life celebrate by helping out your local liquor store or bar. 🙂
You may be thinking, oh it's just a cookie, but it's not. This cookie had all the people who ate it asking what on earth was in them and did I have anymore.
These come from Not Without Salt and the very adorable Ashley who runs that site. Ashley is kind of my blog crush having worked with Sherry Yard (my pastry crush) at Spago…yeah, that Spago. She brought cookies to a meet and greet for the great Helen of Tartlette. She like I often do had made a basic recipe and then just thrown in things she had in the pantry. She had cardamom in hers…I can't afford that right now. But she also had dried cherries, espresso, chocolate, and a little sea salt on top. Oh my. I loved them like crazy. I wanted the recipe but she didn't really have one which I actually understand.
So I decided just to take her chocolate chip recipe (which BTW is my go to nowadays) and added the ingredients she used. I came pretty close to what she did so I'm pretty proud of myself.
And lastly a shout out to Arizona for turning 100 years old today. Glad I don't live there, but you hold some people who are near and dear to me. 🙂
Chocolate Chunk Cherry Espresso Cookies
8 ounces (2 sticks) unsalted butter
1/4 cup granulated sugar
1/4 cup Turbinado sugar
1 3/4 cup light brown sugar, packed
2 eggs
2 tsp vanilla
3 1/2 cup All Purpose flour
1 1/2 tsp. Baking soda
3/4 tsp. salt
1 tsp. instant coffee (I used Via)
1 ½ cups dried cherries (that have been soaked in hot water for 20 minutes, drained and patted dry)
1 lb. chocolate (use the best quality chocolate you can afford. With a serrated knife cut chocolate chunks roughly 1/2 inch)
1/2 teaspoon good quality salt, for sprinkling on top before baking
Cream the butter and the sugars until very light and fluffy, about 5 minutes on medium high.
Scrape down the side of the bowl. Continue mixing while adding the eggs one at time. Make sure each egg is incorporated before adding the next.
Add the vanilla and instant coffee. Scrape down the bowl with a spatula.
Combine the flour, soda and salt in another bowl. With a whisk to combine.
With the machine on low, slowly add the flour. Mix until just combined, taking care not to over mix. With a spatula fold in the chocolate and cherries.
If you so choose, and I do recommend that you do, sprinkle a very fine dusting of good quality sea salt.
Bake at 360* for 12 minutes. They should be lightly golden on the outside but still look gooey on the inside.
Adapted from Not Without Salt