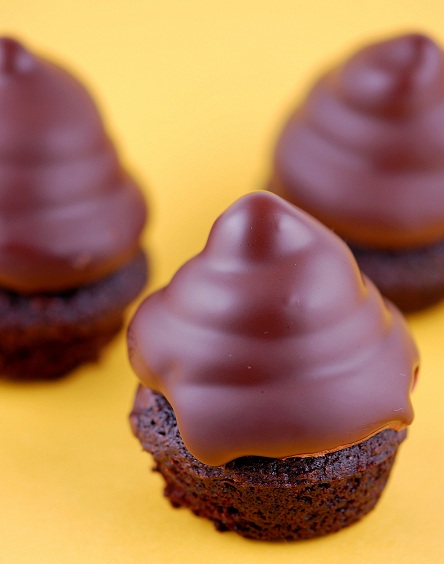 Ah Cyber Monday, how I love you. In a day and age filled with people not having to interact with each other, I especially appreciate it today. Gone are the days of standing in line outside the Wal-Mart all night to possibly be one of the three people who will get the $100 plasma TV, only to be trampled on. Now I can only virtually be trampled on.
I no longer have to deal with playing tug of war over the last My Little Pony and have to listen to some woman go on and on about how her daughter really needs it…so do I woman, this one completes my set. 😛 No more dirty looks or being cut off or even tackled (I saw that once at a Target at 6am).
Though Cyber Monday is not without its draw backs. Sure I get to shop in the comfort of my pajamas and robes, but so do most of the people shopping at Wal-Mart year round :P. But by the time I load my cart up and go to check out, half of the great deals that were there, are now gone. Someone had up and stole it from me and I didn't get to have a death match fight in the aisle with them for it. I just get a "sorry, we are currently out of that item" and then the computer suggests some horrible looking outfit saying I might like that instead. No, no I might not!
After a hard day of shopping most people need one thing. Chocolate. And lots of it. These cupcakes pretty much scream chocolate. So much so that a mini one will do you. If you make full size ones of these you might go into a chocolate coma, which might not be a bad way to die, but you would be dead all the same. These cupcakes use devil's food chocolate cake, Swiss meringue buttercream, and a chocolate coating to seal the deal. The coating is what makes these fun, and the buttercream is what makes these amazing. If you are afraid of making Swiss Meringue Buttercream I encourage you to step out of your comfort zone, you will love it.
Hopefully you got some good deals today, if not, just eat a cupcake instead.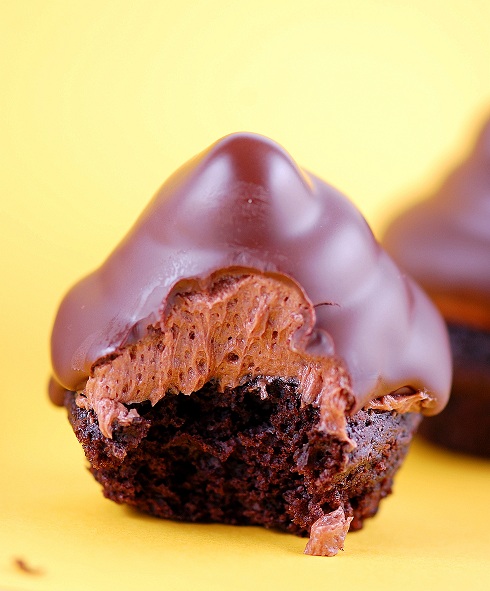 Mini Hi Top Triple Chocolate Cupcakes
Devil's Food Chocolate Cake recipe (use anyone you like, I used this one)
Bake cupcakes in mini pans (at temperature your recipe calls for) for 12-16 minutes. Let cool completely.
Chocolate Swiss Meringue Buttercream
5 large egg whites
1 cup plus 2 TBSP sugar
Pinch of salt
1 pound (4 sticks) unsalted butter, cut into TBSP, room temperature
4 ½ ounces semisweet chocolate, melted and cooled
1 ½ tsp. pure vanilla extract
Combine egg whites, sugar, and salt in the heatproof bowl of a standing mixer set over a pan of simmering water. Whisk constantly by hand until mixture is warm to the touch and sugar has dissolved (the mixture should feel completely smooth when rubbed between your fingertips).
Attach the bowl to the mixer fitted with the whisk attachment. Starting on low and gradually increasing to medium-high speed, whisk until stiff (but not dry) peaks form. Continue mixing until the mixture is fluffy and glossy, and completely cool (test by touching the bottom of the bowl), about 10 minutes.
With mixer on medium-low speed, add the butter a few tablespoons at a time, mixing well after each addition. DO NOT Panic, the buttercream WILL look curdled at first and you will freak out that you screwed up and wasted a pound of butter, but give it time, it will come back together again in the next step.
Once all butter has been added, whisk in vanilla and fold in melted chocolate. Switch to the paddle attachment, and continue beating on low speed until all air bubbles are eliminated, about 2 minutes. Scrape down sides of bowl with a flexible spatula, and continue beating until the frosting is completely smooth. Keep buttercream at room temperature if using the same day.
Adapted from Martha Stewart Cupcakes, June 2009
Transfer frosting to a large pastry bag fitted with a large plain pastry tip. Leaving a 1/8-inch border on each cupcake, pipe a spiral of frosting into a 2-inch-high cone shape. Transfer cupcakes to a baking sheet, and refrigerate while preparing the chocolate coating.
Chocolate Coating
2 cups chopped (about 12 ounces) semisweet chocolate
3 tablespoons canola or vegetable oil
Prepare the chocolate coating: Combine chocolate and oil in a medium heat-proof bowl set over a medium saucepan of barely simmering water; stir until melted and smooth. Transfer to a small bowl, and let cool about 15 minutes.
To Make the cupcakes:
Holding each cupcake by its bottom, dip cupcake in the chocolate to coat frosting, allowing excess to drip off. Transfer to a baking sheet fitted with a wire rack. Spoon more coating around edge of cupcake and any exposed frosting; none of the frosting should show. Let cupcakes stand at room temperature 15 minutes.
Carefully remove paper liners from cupcakes, and discard. Place cupcakes on a serving platter, and refrigerate for 30 minutes to let coating set. Cover, and refrigerate for 2 hours more. Serve cold. Cupcakes can be refrigerated for up to 3 days.
Coating from The Martha Stewart Show, May 2006