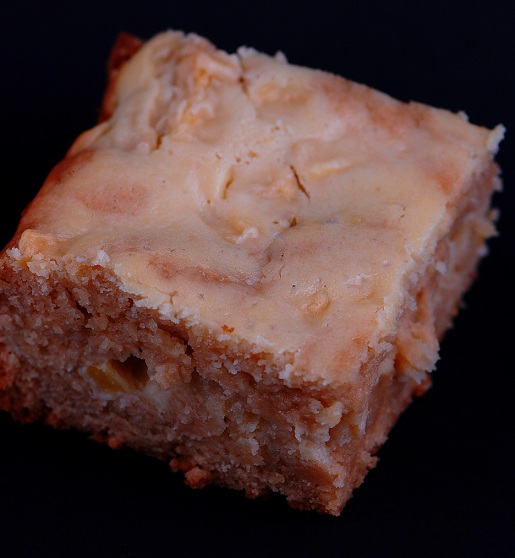 Not sure why I thought that my roommate and I could eat Costco bananas, a ½ flat of raspberries, and 12 large peaches, but I did. It seemed so reasonable at the time, until of course I get it home. I know, I should freeze the raspberries, and I will, but there is very little space in the freezer so I have to do my best. I out and out ate a whole pint of raspberries yesterday. 🙂
I have zero time to write but wanted something up. These are a take on cream cheese swirl blondies…though I don't know why you bother to swirl as they are both the same color and you get very little contrast, but oh well. They taste good all the same.
Do you fall victim to buying way more produce than you can possible eat before it spoils?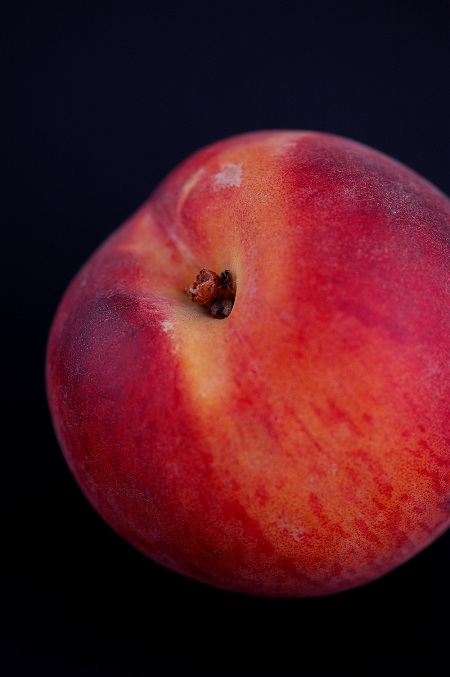 Peaches and Cream Blondies
11 tablespoons (1 stick plus 3 tablespoons) unsalted butter, room temperature, plus more for pan (divided)
1 2/3 cups plus 2 tablespoons all-purpose flour
1 teaspoon baking powder
3/4 teaspoon salt
1 cup packed light-brown sugar
3 large eggs, divided
1 1/2 teaspoons pure vanilla extract, divided
6 ounces cream cheese, room temperature
1 large peach, peeled, diced small, very ripe
1/4 cup sugar
Preheat oven to 325 degrees. Line a greased 8-inch square baking pan with parchment, allowing a 2-inch overhang. Grease parchment; set pan aside.
Whisk together 1 2/3 cups flour, the baking powder, and salt in a medium bowl, and set aside.
Put 9 tablespoons butter and the brown sugar in the bowl of an electric mixer fitted with the paddle attachment; mix on medium speed until pale and fluffy, about 3 minutes. Add 2 eggs and 1 teaspoon vanilla; mix until combined. Reduce speed to low. Add flour mixture, mix, scraping down sides of bowl, until well combined. Transfer to a large bowl.
Put cream cheese, granulated sugar, remaining 2 tablespoons butter, 2 tablespoons flour, 1 egg, and 1/2 teaspoon vanilla into the clean bowl of an electric mixer fitted with the paddle attachment; beat on medium speed until just smooth. Fold in peach pieces.
Pour half the blondie batter into prepared pan, and spread evenly with an offset spatula. Spoon two-thirds of cream-cheese mixture on top, and spread evenly. Drop dollops of remaining batter on top (spacing about 1 inch apart), and spread. Top with dollops of remaining cream-cheese mixture, about 1 inch apart. Gently swirl cream cheese mixture into batter with a butter knife, running the knife lengthwise and crosswise through layers.
Bake until golden brown and a cake tester inserted into center comes out with a few crumbs but is not wet, about 45 minutes. Let cool completely on a wire rack before lifting the bars out of the pan and cutting into squares.
Adapted from Martha Stewart Cookies