I have a couple of people in my life I would like to run my hand across their face and slap some sense into them (I'm sure you do as well). But right now I mostly want to slap the people I know who are living above their means but then are complaining all the time that they don't have the money to cover things…you know like rent.
Even though as a general rule I don't like summer and hot weather, I really don't want it right now. Know why? I don't have any shorts that fit. All the ones from last summer are a size smaller. Didn't know I would be back on prednisone this last year and those are the breaks. Go buy some right? Don't have anything in the budget to do that. Then my friends pipe in with just get a couple cheap pairs at Old Navy. Um, what part of not in budget do you not get? Even if they are $15 a pop, and I buy two pair, that's $30…that I don't have.
Stop justify buying stuff because it was on sale. For the record last year's swimsuit cost me $160. It's a cute Besty Johnson number that just like the shorts doesn't quite fit. So I had to buy a new one. I did for $29.00 at Costco. Someone I know though just bought an almost $100 swimsuit with the justification that it was marked down $60. Great…but you didn't have the $100 to spend in the first place!!! You didn't have money for rent this past month and had to borrow.
Start making your own coffee instead of going to the little coffee stand every day. Quit your gym if you aren't under contract. Yes, I am sure there are classes you love there. But if you live in an apartment they most likely have a small gym. If you have cable they offer a TON of at home workouts. Buy work out DVDs. Go for a walk/run instead…street running burns far more calories than treadmill anyway. Maybe your gym is only $40 a month…that's still $480 a year. It does add up, it all does.
I know someone who couldn't pay their rent last month but ran in a 5/10K each weekend. Those are $30 a pop. And fine, it only adds up to $120…but when the utility bill comes and you are $120 short…guess what. You don't need to run in a 5/10K to get exercise. Just go outside and run. Sure you don't get the t-shirt to show people how cool you are but oh well.
Stop going on vacation. When I was a kid, we went on vacation a handful of times. Not every summer, we didn't have the money. If you don't have the money to go to Disneyland you don't. If you have to tell the kids you don't have the money and they look sad, then oh well. This is a real life lesson for them. Yes, they will be sad. And yes, you hate more than life itself to disappoint them. But not having a roof over your head or no insurance coverage when you and the kids get in a car accident will totally be justified if your kids got to see Mickey Mouse for two days right? Even if it's just a few hundred dollars…it's money that could be going to something real.
And last of course, eat more at home! Don't know how to cook…learn! Don't like to cook, learn to tolerate it. Make your own ice cream instead of going out for it. Make your own cupcakes instead of spending $4 on one, when you can make the whole batch for darn close to the same price as one! These here are lime cupcakes with a take on my strawberry buttercream. This time using blackberries. You are going to want to puree them and then run them through a sieve. If you don't have one, they are actually handy to have (see example below). Plus you get a workout pushing the berry puree through it. Therefore burning all cupcake calories away.
I know being on a budget and actually sticking to it sucks ass. I know. I don't get to go out with friends hardly ever. I eat out almost never. I didn't get to walk in the 5k that my town had for breast cancer at the beginning of the month (which would have been in honor of my mom). I don't get to play on my second hockey team or go to stick and puck in the mornings like I used to. These are all things I want and can't get. Those are the breaks in life. Is it no fun? You bet, but neither is having debt collectors hound you.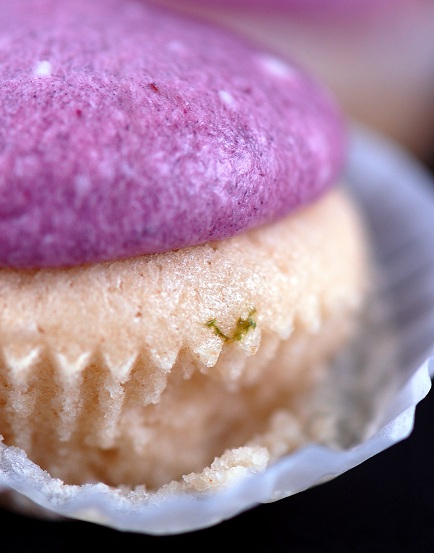 Lime Cupcakes with Fresh Blackberry Buttercream Frosting
Lime Cupcakes
1/4 cup (1/2 stick) unsalted butter, room temperature
2/3 cup sugar
2 large eggs
1 cup all-purpose flour
1/2 teaspoon baking powder
pinch salt
1/3 cup milk
2 tablespoons fresh lime juice
zest of one lime
Preheat oven to 350F.
In the bowl of an electric mixer fitted with the paddle attachment, cream butter and sugar until light and fluffy, about 2-3 minutes.
Add eggs, one at a time, beating until incorporated.
In a medium bowl, whisk together flour, baking powder, and salt.
Measure out milk, lime juice, and lime zest.
Add flour mixture and milk alternatively, beginning and ending with flour mixture.
Spoon batter into cupcake liners.
Bake for 20 minutes until a cake tester comes out clean.
Cupcake recipe from Cupcake Bakeshop
Fresh Blackberry Buttercream Frosting
½ cup unsalted butter, at room temperature
2 ½-3 cups (may need more or less) powdered sugar, sifted
1/4 cup pureed blackberries (run through sieve to get seeds out)
1/2 tsp. vanilla extract
Beat butter and 1 cup powdered sugar on medium speed for 1 minute.
Add vanilla and blackberry puree and beat for 1 minute.
Adding 1 cup at a time, add the remaining powdered sugar. You may find that you need less than 3 cups or more than 3 cups depending on the consistency of the frosting you are going for.